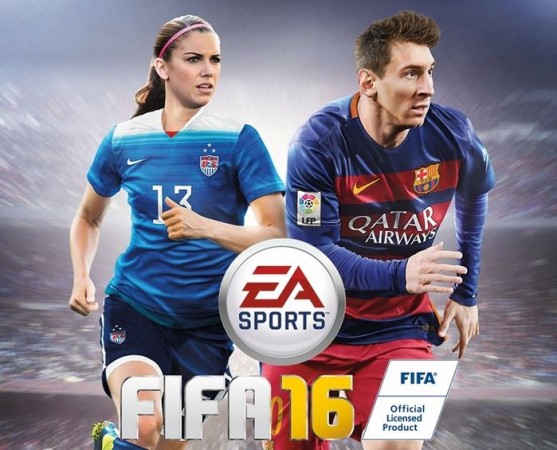 FIFA 2016, the upcoming football video game from EA Sports, had recently announced that FC Barcelona star and Argentine captain Lionel Messi will be gracing its international covers.
And now, for the first time in FIFA game history, the company has announced that Messi will be sharing space with women athletes on the game's covers in the US, Australia and Canada.
The women athletes are Alex Morgan, who plays as a forward in US Women's National Team; Christine Sinclair, captain of the Canadian Women's National Team, and Stephanie Catley of Australian Women's National Team. They will be in the respective home covers of FIFA 16 along with Messi.
The Australian game cover will also have a mystery athlete along with Messi.
"It is an incredible honour to be one of the first women featured on the cover of EA SPORTS FIFA," said Morgan.
"I'm thrilled that EA SPORTS is celebrating female athletes in FIFA 16. To be featured in the game and to promote women's soccer with Alex is really special and another exciting step for women in sports," said Sinclair.
Players in FIFA 16 will, for the first time, have female players as EA Sports has included Women's National Teams from 12 countries who will be playing in the Kick Off, Offline Tournament and Online Friendly game modes.
"As soon as we knew Women's National Teams were joining FIFA 16, we immediately recognized that Christine and Alex would be the perfect cover athletes based on their accomplishments and what they represent for their respective countries and the sport of women's soccer," said David Pekush, senior manager of North America Marketing for EA Sports.
FIFA 16 will be released on 22 September on PC, PS3, PS4, Xbox 360 and Xbox One.
Real Madrid and EA Seal New Partnership Deal
A special partnership deal between EA Sports and Real Madrid C.F. was announced that will run exclusively for three years, benefiting FIFA 16 players, who are all set to see updates of scanned models of football players from Real Madrid.
.@EASPORTS to be the exclusive and official videogame partner of @RealMadrid pic.twitter.com/f4Ptjb2NUP

— EA SPORTS FIFA ANZ (@EASPORTSFIFAANZ) July 21, 2015
It was also revealed that EA has finished 3D head scans of 14 Real Madrid players with players' models looking more real than before.
It is not known how this deal will affect PES 2016 or whether EA will promote and concentrate more on Real Madrid players.