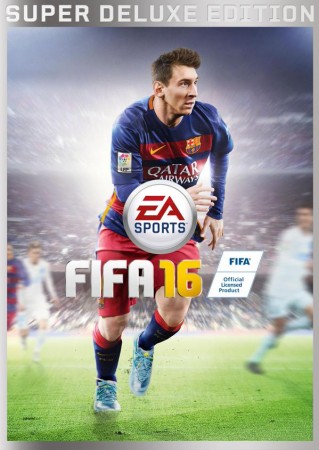 EA Sports recently revealed that footballing superstar Lionel Messi will be on the cover of the upcoming FIFA 16. The game will also include his signature move, 'No Touch Dribbling'.
Although FIFA 16 is set to roll out in September 2015, the game's alpha version has revealed early player ratings of Barcelona and Real Madrid, thanks to UFut16 (via Attack of the Fanboy). However, it might not reflect the final version of the game.
Below are the player ratings in FIFA 16 alpha version:
Real Madrid
Casillas (84), Carjaval (80), Ramos (87), Pepe (83), Marcelo (82), Kroos (87), Modric (88), Bale (87), James (87), Ronaldo (93), Benzema (86), Isco (84), Lucas Silva (75), Arbeloa (79), Illarra (78), Jese (75), Varane (82), Coentrao (79), Keylor (78)
Barcelona
Bravo (84), Alves (83), Pique (87), Mascherano (83), Alba (82), Rakitic (83), Busquets (86), Iniesta (90), Messi (94), Suarez (89), Neymar (88), Xavi (87), Ter Stegen (82)
It must be noted that these ratings are only pointers to who EA Sports thinks are better players. So, we see that Messi and Ronaldo have the highest scores.
Although we know that Messi will be the face of FIFA 16 covers globally, the face for the regional cover has not been decided. NBA superstar LeBron James has voted for Liverpool midfielder Jordan Henderson.
For a campaign to vote for UK's regional FIFA 16 cover from the list of four potential athletes, Liverpool midfielder Jordan Henderson has received support from NBA superstar LeBron James.
Henderson is one of the athletes in the list that includes Sergio Aguero, Thibaut Courtois and Harry Kane. The voting is over now.
EA Sports had earlier released a video and posted about a new dribble control system feature, No Touch Dribbling', which will be part of the game.
In order to trigger this feature, players will have to hold the L1/LB button on the controller. This will lead to players stepping aside to create space. Now, using the left analog in various angles, this will result in tricking the defender if it is timed correctly.
It also stated that players can perform advanced moved by pressing and holding R2/RT button. Though all players will be able to perform this skill with practice, it will reflect on the player's dribbling rating and skill move star rating.
(YouTube Courtesy: EA Sports FIFA)
(YouTube Courtesy: EA Sports FIFA)