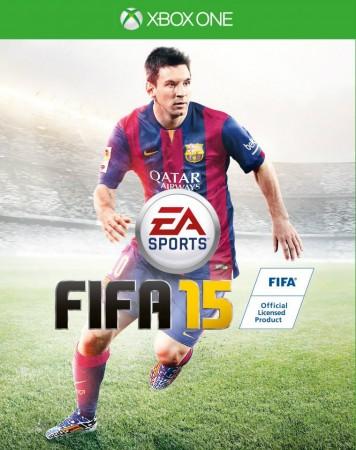 As EA Sports' FIFA 15 hits the North American market, reviews for the game have begun to roll out.
The demo version of the game was released on 9 September 2014 and it was one of the most played demos in the franchise.
FIFA 15 will be released in Europe on 25 September and in the UK on 26 September 2014 for Wii U, 3DS, PS Vita, PC, PlayStation 3, PlayStation 4, Xbox 360 and Xbox One.
Below is a roundup of some of the reviews for FIFA 15:
"FIFA 15 is still one of the best sports simulations around, with superb animation and big-match atmosphere."
"Once the final whistle is blown, that's what FIFA 15 does best: it makes you feel like a star... f you're looking for football that is exciting, exaggerated, and immensely entertaining, FIFA 15 is the game to get."
"FIFA 15 can play a great game of football. The players and pitch look better than ever... IFA 15 has gameplay problems, but it can also play some sublime football. However, single-player's continued stagnation leaves a sour taste in the mouth. If goalkeepers can be addressed, EA will remain the football king."
"The FIFA franchise has gone from a game that was huge because of the de facto effect of its numerous licenses to a title that stands tall thanks to its own abilities. FIFA 15 takes the series into a whole other level with gameplay that betters the surmounting hype that threatened to engulf it... It does not disappoint."
"EA can quite fairly claim to have again delivered the best football game ever made. But every year the developers seem to have less of an idea what that means."
"'Feel the game' is the advertising slogan this year. At first it sounds like another meaningless phrase spun by marketing men, but the more you play FIFA 15 the more it makes sense. The new stadia, the remodeled players, the live news feeds, the ultra-slow replays of crunching tackles - FIFA 15 feels more like football than ever."
"FIFA 15 is the best game of football around. EA has evolved its engine rather than revolutionised it, and it's worked a treat. But, with friends or without, FIFA 15 plays a rock solid game of football and looks destined for glory again."
FIFA 15 Demo is the Most Played from EA Sports
EA Sports has said that its latest football gaming title, FIFA 15 is the most played demo in the entire EA Sports history, with more than 5.5 million playing the demo version.
The FIFA Demo allowed players to play the following clubs Liverpool, Barcelona, Chelsea, PSG, Dortmund, Napoli, Man City and Boca Juniors.
FIFA 15 Ultimate Team for Mobile and PC Released
FIFA 15 Ultimate Team was released for mobile and Windows 8 platforms. Ultimate Team is one of the most popular modes in FIFA franchise and it will be free-to-play.
Players will be building a team and will be later playing matches with others to score some coins that can be later invested on new card packs.
Presently, FIFA 1 Ultimate Team will be available for download on iOS, Android, Windows Phone and Windows 8.