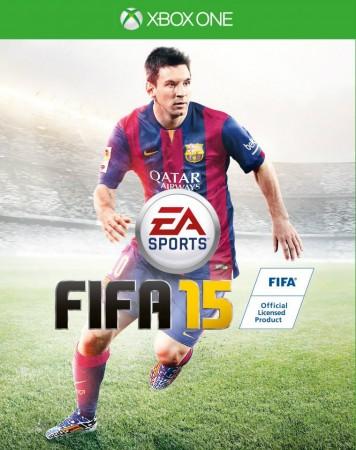 EA has released the first title update for its FIFA 15 PC version that will bring fixes to the multiple issues affecting the game.
The title update will also patch the game breaking bug that makes all the players who are not user controlled, including the goalkeeper gather at the centre of the circle after the kick off.
The title update was released via Origin on 8 October 2014. EA has also promised similar update for PlayStation 4 and Xbox One in the "near future." In a forum post, it says: "This update addresses issues that you, the FIFA community, have brought to our attention."
It also reiterated its commitment to FIFA 15 community to keep improving the game and thanked them for the continuous feedback.
Below are the full patch notes of the title update for FIFA 15 PC version (EA Forum):
Added the latency indicator to FIFA 15 Ultimate Team so fans can view health of connection before entering an online match.
Improved set-piece cameras in Online Seasons for Guest players.
Corrected home crowds in Match Day Live matches.
Fixed occurrences where the player would be unable to progress at the end of a FUT match due to the post-match menus not appearing.
Fix to hospitality upgrades in Career Mode and Pro Clubs.
Addressed exploit where players could infinitely switch kick-takers on set-pieces.
Fixed occurrence where changes to the Subs and/or Reserves are not brought into Season matches.
Fixed issue where non-user controlled players run to the kick-off circle at the start of a match. (PC Only)
Fixed occurrences where players couldn't progress through the Virtual Pro creation. (PC only)
(YouTube Courtesy: Hodlok H'ghar)
List of Bugs and Glitches
FIFA 15, as with any games, has its share of bugs and glitches. Here is a compilation of some bugs and glitches from Redittor, dekkytsh.
General Issues
Kick Off Glitch - When you kick off, if your player is quick enough they can run wide around the defenders before they can react. They will stand still and if you switch to a defender they will spin the opposite direction to the running player.
Penalty Collision bug - There are problems with the referee at the moment. He will concede a penalty if the opposition happens to run in to your goal keeper. (VIDEO)
Three Subs and Injury bug - Currently if you have used all your subs in a game and you have a player who needs to come off due to injury you are left stuck on the sub screen. You will not be able to finish the match without restarting the game.
Invisible Sub bug - Some players are experiencing the invisible sub glitch from FIFA 14. After subbing the player, they will be invisible on the pitch apart from the arrow above the players head but is visible on the map.
Seasons Coins bug - Currently if the servers go down during a game of FUT (online or offline) you will not get the coins or the result regardless of the out-come (but your DNF will decrease).
PS4 Screen Bountry bug - Currently some players are experiencing a problem with the screen boundaries on PS4. A temp fix to this is the following: PS4 settings -> Sound and Screen -> Display Area Settings -> reduce it to the minimal possible area. This will cause FIFA to be displayed correctly.
GK Positioning/Finesse Long Shot bug - Due to how goal keepers are positioned, it is fairly easy to beat the keeper from 35 yards out with a finesse long shot. (VIDEO 1 and 2)
Far Post Shooting - Shooting far post guarantees a wide shot.
CO OP Seasons Sub bug - Sometimes you can't make substitutions, because you see your opponent's team in team management.
PS4 Superfit Goalie
Ultimate Team
Disconnected glitch - The FUT servers are currently under a traffic attack by hackers. This is causing FUT to disconnect regularly
FIFA Points bug - There are problems with purchasing FIFA points on both Xbox and PS. Some people may not receive their points due to a "check-out error" but you will still be charged.
DNF bug - Currently if your opponent quits the game it will lower your DNF rating.
Coins bug - Currently if the servers go down during a game of FUT (online or offline) you will not get the coins or the result regardless of the out-come (but your DNF will decrease).
Market bug - Currently if you sell a player on the FUT market there is a big chance that you will not recieve the coins for the player you have sold. They may be delayed or you may need to report the missing coins to EA. This is also happening when people are buying players.
Play friends squad bug - If you have an injured player when you go to play a friends squad, viewing your team while on the team selection will not allow you to apply consumables to your player you will need to exit the whole thing and apply manually.
Season results bug - Not all results will currently show up in your online season history. You need to exit FUT for it to update itself.
Extra Time bug - Online games will have +5 minutes added to each half regardless of stoppage time in the game.
PS4 Concept Menu bug - When going to concept squads from the UT menu, it freezes your console (PS4). Also, after online/offline games, it shows the pitch for 15 seconds then allows you to press X to finish the game/advance. Again, it's on PlayStation 4.
Sound and Visual
After winning a big game in career mode or a cup game the crowd does not cheer after the final whistle.
Players still wearing winter gloves in summer weather.
Stuttery graphics and low FPS at times on both PlayStation 4 and Xbox One versions.
Game will sometimes show incorrect team names on the score board.
Below are other bugs or glitches found by other Redittors:
PS4 Pro Clubs -- Online pro accomplishments won't save on league games. Game seems to record previous result on "next match" screen but isn't adding points to division progress either.
Gameface Bug -- When using gameface in player career mode, the player will look as though he's all gums with no teeth. Happens on both consoles. (PHOTO)
Online Pro editing freezes upon finalizing -- Can be circumvented using alt+enter during pro edit loading screen
Opponent can escape loss by pressing alt+f4 which may result loss/DNF in your part
Goalkeeper rushing to halfway line, making any sort of play impossible (affecting small amount of players)
FIFA 15 crashing upon reaching 90th minute (affects small amount of players)
Player rendering bug in Career mode
Online Bench Players cannot be selected
Here is a bug or glitch video compilation from a FIFA 15 fan:
(YouTube Courtesy: LetsFifa)