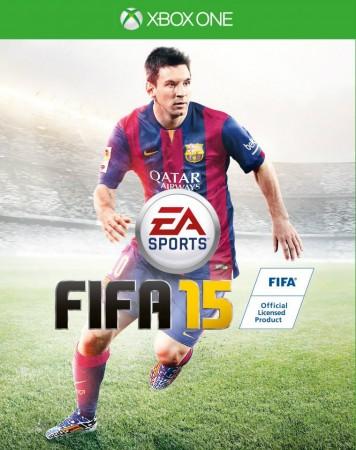 The Demo for EA Sports' FIFA 15 is already out for PC, PlayStation 3, PlayStation 4, Xbox 360 and Xbox One.
The demo allows players to play the game with features like Authentic Player Visuals, Agility and Control and its Man-to-Man Battles are more rewarding that its predecessors.
"The FIFA 15 Demo is the biggest football pre-season in the world," said EA in a post on its official website.
FIFA 15 will be releasing on 23 September in North America and 25 September in Europe.
FIFA 15 Demo Beginners Guide
Below are some of the tips and guidelines for players playing the FIFA 15 Demo. The guidelines were posted by Reddit user, TruthfulDeception on a Reddit thread.
Buying coins can get you banned, it's not worth it.
If you have Season Ticket, this is the last year it will be active. Check here.
The Web App, that is already out will allow gamers to trade and will allow players to start or continue your club.
Gamers with Origin account will get access to FIFA 15 Web App.
Coins or players are not transferable to FIFA 15.
FIFA points can be transferred only to the console and not to the Web App.
Be careful with buying players as their prices will be going up until its release, and it will drop with gamers buying FIFA points and open packs. (This has been contested with another Reddit user saying, "As people accrue more coins they will be willing to spend more on players which will cause the players prices to increase. The only way it would drop or stay consistent is if the quantity of higher rated players that people want to buy exceeds the demand for them, which is highly unlikely.")
Whom to Trade? Trade players who are non-rares with 80+ pace, these can be traded throughout the year. However, buy for 350-450 and sell for 750+
The best time to buy players is during the weekend of the FIFA 15 release, as many players will be in the market and for a lesser price.
The number of starter packs you receive will be determined on your time playing FUT 14.
Buy Low but sell High.
For gamers who do not good in training - do not spend all your coins on top players. Build up a starter squad and wait for a week to play with them.
Gamers must focus on getting the Managers Tasks done quickly, since it will earn free pack.
Buy consumables before the release of the game since the prices will be lower, but after the release of FIFA 15, the prices will only raise sky high.
Loan players when you can.
Gamers who have EA Access will be getting early access to FIFA 15 (18 September). It will have a six hour trial period. The Reddit user suggests the following things to do:
- Get your FUT sorted out (with what formations/players/coins you have available)
- Sell what you can for a profit (Bronzes- 250+,Silvers- 450+, and Golds- 650+)
- Start to earn coins through trading and playing matches.
- Get your manager tasks done, to earn free pack.
Your account and points DO NOT transfer across consoles, as well as loyalty packs
How does FIFA Ultimate Team (FUT) work?
Log into Origin (if you have an account) and pull up the web app. If not, just follow these steps the same.
Once you select FUT, it'll ask you to add a club name.
Here you will be given a "Starter Pack" full of players.
You can choose to sell the players or keep them to play games, it will give you coins.
Coins are used to buy things like players, stadiums, balls and so on.
You buy players from the "Auction House" where players are traded and sold.
Stats determine a player's rating, so players who are better in real life will have better stats. Base Stats are six stats that show on the card, along with the players rating. These stats include Pace, Shot, Passing, Dribbling, Defending, and Physical (strength+heading ability).
For more information check this website.
Fan Outcry Gets Tim Cahill better FIFA 15 Rating
Former Everton Player, Tim Cahill's rating was upgraded as fans slammed his ratings in FIFA 15, which was a paltry 69. EA Sports has since increased Cahill's rating to 74.
This upgrade followed fans protesting the low rating and threatening to "boycott" the game, reported CaughtOffside.
Cahill is the ambassador of FIFA 15 and is featured on the game's cover on its Australian edition. EA Sports said that the mistake was dure to a "database error."
"@EA_Australia: .@Tim_Cahill will be a 74 Overall in #FIFA15.The data being reported on was not final.It was a database error" @FOXFOOTBALL

— Tim Cahill (@Tim_Cahill) September 16, 2014
Annoying Features in FIFA 15 (Demo version)
Reddit users have posted some of the most annoying features in FIFA 15:
The AI stalling time in the last five minutes of the game.
Having to choose language each time.
Goal keepers saving everything else but the shots that come to them directly. When such direct shots come they duck or freeze.
Shirt pulling animation.
Pushing and shoving after a foul.
Only one animation for penalties.
The new Team Management does not give access to the full screen
Delayed offsides and the angle that the offisides are shown.
Players jumping during a tackle but landing on the ball.
Cutscenes.
Additional time is always five minutes.
Top 20 Fastest Players in FIFA 15
EA Sports has released a list of top 20 fastest players in FIFA 15. Pace is an important factor that can make a difference between victory and defeat, says the post.
Mathis Bolly - 97
Theo Walcott - 96
Jonathan Biabiany - 96
Pierre-Emerick Aubameyang - 95
Dominic Oduro - 95
Gareth Bale - 94
Cedrick Mabwati - 94
Fahad Al Muwallad - 94
Kekuta Manneh - 94
Ryo Miyachi - 94
Nnamdi Oduamadi - 94
Arjen Robben - 93
Raheem Sterling - 93
Cristiano Ronaldo - 93
Lucas Moura - 93
Juan Cuadrado - 93
Gervinho - 93
Lionel Messi - 93
Obafemi Martins - 93
DeAndre Yedlin - 93
Top 10 Shooting and Shot Power Players in FIFA 15
EA Sports has posted list of top 10 Shooting and Shot Power players in its upcoming FIFA 15 video game.
Top 10 Shooting Players in FIFA 15:
Cristiano Ronaldo - Real Madrid (Spain)
Zlatan Ibrahimović - Paris Saint-Germain (France)
Robin van Persie - Manchester United (England)
Lionel Messi - FC Barcelona (Spain)
Wayne Rooney - Manchester United (England)
Luis Suárez - FC Barcelona (Spain)
Hulk - Zenit Saint Petersburg (Russia)
Lukas Podolski - Arsenal (England)
Sergio Agüero - Manchester City (England)
Radamel Falcao - Manchester United (England)
Top 10 Shot Power Players in FIFA 15:
Ronny - Hertha BSC (Germany)
Cristiano Ronaldo - Real Madrid (Spain)
Hulk - Zenit Saint Petersburg (Russia)
Zlatan Ibrahimović - Paris Saint-Germain (France)
Eddy Bosnar - Central Coast Mariners (Australia)
Lukas Podolski - Arsenal (England)
Fredy Guarín - Inter (Italy)
Wayne Rooney - Manchester United (England)
Alberto Costa - Spartak Moscow (Russia)
Tom Huddlestone - Hull City (England)
Top 30 Five-Star Skillers in FIFA 15
EA Sports has posted 30 players with best skills. The skills of players will be of big help for gamers in FIFA 15 to beat the defenders.
Pelé - FUT Legends (Xbox Exclusive)
Cristiano Ronaldo - Real Madrid (Spain)
Franck Ribéry - Bayern Munich (Germany)
Jay-Jay Okocha - FUT Legends (Xbox Exclusive)
Neymar Jr. - FC Barcelona (Spain)
Juan Cuadrado - Fiorentina (Italy)
Mbark Boussoufa - Lokomotiv Moscow (Russia)
Nani - Sporting Libson (Portugal)
Ronaldinho - Querétaro (Mexico)
Ricardo Quaresma - Porto (Portugal)
Douglas Costa - Shakhtar Donetsk (Ukraine)
Adel Taarabt - Queens Park Rangers (England)
Memphis Depay - PSV (The Netherlands)
Matías Fernández Fiorentina (Italy)
Aiden McGeady - Everton (England)
Hatem Ben Arfa - Hull City (England)
Alexandru Maxim - VfB Stuttgart (Germany)
Yassine Chikhaoui - FC Zürich (Switzerland)
Oussama Assaidi - Stoke City (England)
Michael Arroyo - Club América (Mexico)
Kelvin - Porto (Portugal)
Wellington Silva - UD Almeria (Spain)
Vitinho - CSKA Moskva (Russia)
Khethokwakhe Masuku - Orlando Pirates (South Africa)
Shikabala - Sporting Libson (Portugal)
Alanzinho - Balıkesirspor (Turkey)
Élton - Al Fateh (Saudi Arabia)
Gary Mackay-Steven - Dundee United (Scotland)
Mohamed Elyounoussi - Molde FK (Norway)
Nadir Çiftçi - Dundee United (Scotland)
Fidel Martínez - U. de G. (Mexico)
FIFA 15 Soundtrack Revealed
EA Sports has released soundtrack for FIFA 15, which will be having more than 40 tracks and will be featuring artists like Broods, Milky Chance, Magic Man, Jungle, and Vance Joy and bands like Foster the People, The Kooks, and Kasabian. There will be new music from Nico & Vinz, Madeon, and Elliphant.
FIFA 15 will also be featuring brand new tracks from AVICII, The Ting Tings and others.
Top 10 Strength and Physical Players in FIFA 15
EA Sports has released a list of top 10 players known for their Strength and Physical players in FIFA 15. Below are the lists:
Top 10 Strength Players
Adebayo Akinfenwa - AFC Wimbledon (England)
Hérold Goulon - Zawisza Bydgoszcz (Poland)
George Elokobi - Oldham Athletic (England)
Felipe Baloy - Monarcas Morelia (Mexico)
Christopher Samba - Dynamo Moscow (Russia)
Abdoul Ba - RC Lens (France)
Kim Shin-Wook - Ulsan Hyundai (Korea)
Wilfried Bony - Swansea City (England/Wales)
Moustapha Bayal Sall - Saint-Étienne (France)
Assani Lukimya - Werder Bremen (Germany)
Top 10 Physical Players
Jelle Van Damme - Standard Liège (Belgium)
Yaya Touré - Manchester City (England)
George Elokobi - Oldham Athletic (England)
Jean-Sylvain Babin - Granada (Spain)
Paul Pogba - Juventus (Italy)
Leroy Fer - Queens Park Rangers (England)
Cheick Tioté - Newcastle United (England)
Wilfried Bony - Swansea City (England/Wales)
Yun Young-Sun - Seongnam FC (Korea)
Diego Costa - Chelsea (England)
(YouTube Courtesy: EA SPORTS FIFA)
(YouTube Courtesy: EA SPORTS FIFA)