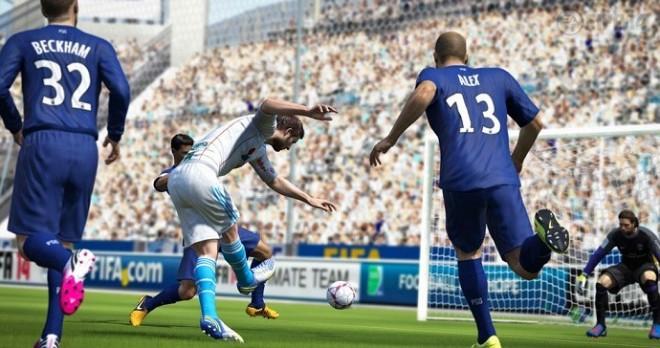 FIFA 14 has now pushed Grand Theft Auto 5 to the second position on the UK sales charts.
Grand Theft Auto 5 topped the charts for only one week. Though, FIFA 14 crossed the sales of GTA 5, the game has not come anywhere close to the sales of FIFA 13 in 2012, reported CVG.
There can be many reasons for the drop in the sales of the flagship game, one of which is that GTA 5 stole the limelight and has already made a great impression on most of the gamers by reaching $1 billion in a time period of just three days. But, even GTA 5 sales have dropped down by 82 percent since last week when the flagship game was on top of UK charts.
FIFA 14 was reviewed by the media last week and received positive response.
FIFA 14 is one of the three games to release on eight formats at the same time, others being FIFA 13 and the 2006's Need For Speed: Carbon.
There are some other games which released at the same time as FIFA 14 like Disgaea D2 and Armored Core: Verdict Day but these games did not make it in the top 20 list.
Codemasters' F1 2013 is also one of the Friday's releases for all the gaming consoles like Xbox 360, PlayStation 3 and for the PC. Along with it Dance 2014 and The Legend of Zelda: The Wind Waker HD were also launched.
Since, GTA 5 will be launching online soon, it is predicted that the game will come back to the top of list again this week.
Here is the UK Charts released on Sept. 28:
1) FIFA 14 (EA)
2) Grand Theft Auto 5 (Rockstar)
3) Minecraft: Xbox 360 Edition (Microsoft)
4) PES 2014: (Konami)
5) The Last of Us: (Sony)
6) Disney Infinity (Disney)
7) Splinter Cell: Blacklist (Ubisoft)
8) Saints Row 4 (Deep Silver)
9) Diablo 3 (Activision)
10) Rayman Legends (Ubisoft)
"It's such a ludicrously comprehensive sports game, where anyone mode could easily see you through to next season, that the small and clumsy steps it takes backwards courtesy of Precision Movement do little to spoil the party. Slightly slower and a little worn out in the legs, FIFA 14 is still king," read a CVG review.