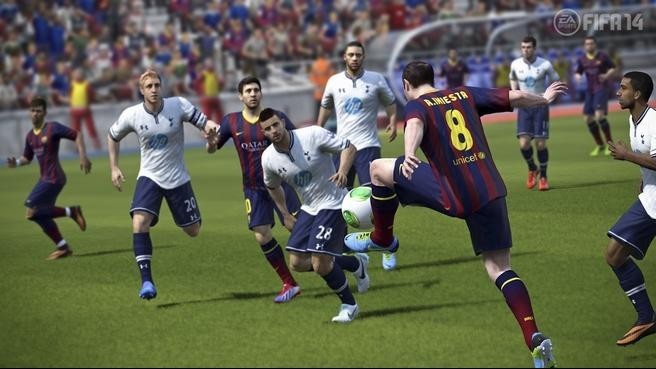 Electronic Arts (EA) has announced the release of a new patch for its recently released football simulation video game, FIFA 14. The patch addresses certain freezing issues, which the players faced on Leaderboards.
"We've located some of the issues causing freezing throughout the game, but not all of them," the company said in a post. "Please continue to let us know about specific instances on the EA forums as your feedback has helped immensely. There are a small percentage of remaining crashing/freezing instances and the team will continue to investigate and address them as needed."
FIFA 14 Patch Notes:
Balancing lofted through balls.
Balancing attacking headers.
Balancing finesse shots.
Improved defender switching during crosses.
Freezes while making substitutions during gameplay.
Freezes while entering and exiting Leaderboards.
Improvements made to Dynamic Camera.
Corrected crowd sections in Signal Iduna Park.
Corrected "Any" and "GK" filters in Pro Clubs.
We've responded to the community and upgraded FIFA 14 cover star Stephan El Shaarawy to 4* Skills in Online Seasons, Head to Head, and Career Mode using EA SPORTS Football Club Match Day.
The company confirmed that it will be assessing El Shaarawy and might potentially be included in an upgraded Ultimate Team, sometime later.
Meanwhile, Leyton Orient F.C., which is presently on top of the Football League One has banned its players from playing FIFA 14 on match days. The team has had a successful season and has won eight successive league matches.
"The [team] coach boasts a fold-out massage table, a coffee machine and Sky TV but the most exciting thing for the players was the PLayStation 3," said Jonny Davies, spokesman for Leyton Orient, Videogamer reported.
"[The players] got stuck into the new FIFA 14 game and at times even played as themselves against Oldham in preparation for the match the following day. The staff were quick to implement a 'no FIFA on a match-day' rule, however. The gaffer [manager Russell Slade] suspects several hours playing football on a video game is not conducive to a good performance in the real thing."
FIFA 14 was released on Sept. 24 for PC, PlayStation Vita, Nintendo 3DS, PlayStation 3, and Xbox 360.