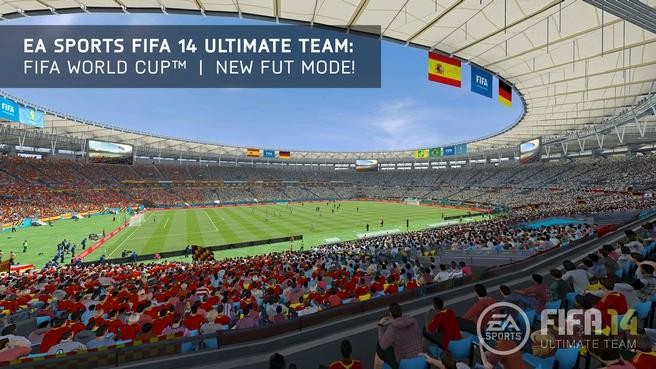 Electronic Arts (EA) has confirmed that FIFA 14 will be getting a new free mode, Ultimate Team: World Cup Mode which will allow players to play on PC, Xbox 360, Xbox One, PlayStation 3 and PlayStation 4, starting on 29 May.
Riding high on the upcoming Brazil FIFA World cup, the company has introduced it in one of the most popular mode in FIFA 2014, the Ultimate Team mode. However, World Cup Mode will not be fitting into your regular Ultimate Team mode as it will be independent from it and players are required to create a fantasy squad with a focus on international teams rather than club teams.
Players will get to chose from the 32 national teams that are competing for the cup in Brazil. The mode, apart from the teams will also include crests, National Team kits, the official Adidas Brazuca match ball, the Estadio do Maracana of the 32 teams, said EA in a post on its official website.
Teams can be augmented by buying new players and consumables coming from special Pack in FIFA 14 Ultimate Team: World Cup Store. Players can use their in-game gold and real money to boost the new team created by the players where purchases from the cards will lead to improvements in the team. When players start the FIFA 14 Ultimate Team, a single Starter Pack will be issued.
"FUT fans will also have the chance to write football history," said the post explaining that this mode will have online and single player tournament modes where they will have to go through the patter of group stage and knockout stage if they want to grab the FIFA Wold Cup.
When players win matches, they are assured of in-game coins which in turn can be used to purchase packs in the store that will bolster their team. Apart from coins, packs will also be offered. EA offers a tip that the squad chemistry can be increased if they search and find players who are from the same country or confederation and after finding them, must make them play with the team.
However, the company says that "FIFA 14 Ultimate Team World Cup are unique, untradeable, and can only be found in World Cup packs" and so cannot be traded. There will be no cross saves involving FIFA 14 Ultimate Team and FIFA Ultimate Team cannot be made. Players must also note that they can maintain only a single team but it can involve more than 23 players. EA also confirmed that some of the player ratings in FIFA Ultimate Team World Cup will be different from that of FIFA 14 Ultimate Team's player ratings.
Items like Man of the Match will be available in FIFA 14 Ultimate Team, but it will be outside the World Cup and if any player receives it then there will be a boost in this attribute and will be reflected in FIFA 14 Ultimate Team World Cup club. It also explained that Play-a-Friend mode and access for this mode via web app or mobile companion app will not be available.
The mode being offered tops the company's already existing EA Sports 2014 World Cup Brazil game for PlayStation 3 and Xbox 360.
Top 5 Reasons on Why to Play FIFA 14 Ultimate Team World Cup (EA Sports):
It is free of cost for players with FIFA 14.
Gives us the experience of receiving an authentic 2014 FIFA World Cup.
New player items will be added making it different.
Every single World Cup Pack contains a free Gold Pack for the regular FIFA 14 FUT game mode.
First time it has been featured in Ultimate Team.
(YouTube Courtesy: EA SPORTS FIFA)