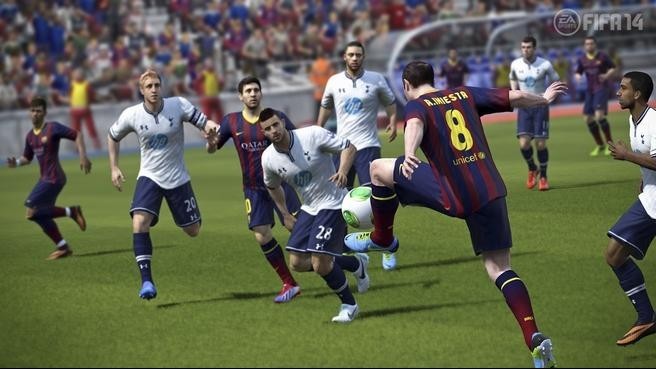 Electronic Arts has sent in a new update for its popular football video game, FIFA 14 on PlayStation 4 and Xbox One. FIFA 14 has a huge fan following and the new update is expected to issue fixes to some of the irritants during the game as well as improve the game overall.
EA also carried out server maintenance that will improve EA Sports Football Club and FIFA Ultimate Team on all the platforms.
The game was a victim to bugs at its launch, but constant updates have improved the game drastically. Many took to EA Forum to complain about the game's balancing issues and player mechanics bugs affecting it. A post on its Forum adds, "Its [EA Sports] commitment to improve the FIFA 14 is ongoing, and regular feedback from our fans helps us prioritize and identify future improvements." One thing that becomes clear is that EA and EA Sports have been listening to FIFA Community for its bug fixes and other such issues in the game.
This is the second update that is coming for the next-generation consoles. The new update will improve field vision and playability.
FIFA 14 uses Impact engine for current generation consoles and Ignite engine for next-generation consoles. The game was released on 24 September, 2013.
Below are the complete patch notes for the PlayStation 4 and Xbox One update (EA Forum) (EA Forum):
FIFA 14 patch notes, 19th December
Some stability issues when entering Online matches.
Some cases where users with large friends lists can't access certain Online features.
Allows the Goalkeeper in Clubs mode to change camera angles.
Modifications to a couple of camera angles in specific stadiums to improve playability.
Ensures the Brazuca match ball appears properly in FUT once redeemed in the EAS FC Catalogue.
Resolves some Online issues regarding match invites.
Improvements to some Kinect Global Speech Commands.
Occurrences of mismatched roster names in Seasons matches.
Virtual Pro Ball Skills varying from match to match.
Random list appearing instead of Friends Clubs list in Pro Clubs.
FIFA 14 server maintenance notes
Increase to EA SPORTS Football Club Credits that are earned from playing matches in select modes from 50 FCC to 150 FCC (FIFA 14 - X360/PS3/PC/XB1/PS4).
Presentation fixes to EAS FC Alerts (FIFA 14 - X360/PS3/PC/XB1/PS4).
Fixes to in-game pop up messaging in FUT (FIFA 14 - X360/PS3/PC).
Presentation fixes to Friends News, Leaderboards, and Friends List in FIFA Ultimate Team (FUT Web).
Presentation fixes to EA SPORTS Football Club Alerts in the Mobile Companion App (EAS FC Comp App) and EAS FC Widget within FIFA Ultimate Team (FIFA 14 - X360/XB1).
Stability fixes when FUT fans are looking at an item in the Transfer Market and the item expires (FIFA 14 - X360/PS3/PC/XB1/PS4).