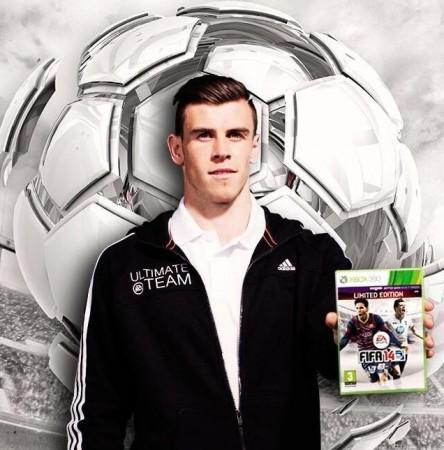 Tottenham Hotspur winger Gareth Bale has been put on the cover of the latest title in EA Sports' FIFA franchise, alongside Lionel Messi. The accolade is further proof that Bale has emerged as one of Europe's top players. Previous covers featured Kaka, Wayne Rooney and Ronaldinho.
"To be on the front cover is a massive honour," Bale was quoted saying in the Daily Mail. "When you look at the calibre of players that have been on there in the past they are legends of the game, so for me to be here now is a dream come true."
The player also revealed he is a fan of the game, often playing with his friends.
"Yeah I play a lot with my friends from home and we have big tournaments when they come to my house and I also play online," he was quoted saying in EuroGamer. "So yes, I play a lot."
"I've played as myself a few times, the stats are good - but obviously everyone wants them to be a bit better," he continued. "But it's a great game, I enjoy playing it."
The FIFA 14 makers made Bale do some motion capture work to accurately represent his presence on the field. The Welshman's free-kick technique and trademark heart celebration were of particular focus.
"The things I liked to see most were the free kick technique I use, and the way I take penalties etc," he explained. "It's all interesting stuff, and to see it on the game makes it more realistic.
"I did my trademark celebration, the heart," Bale said. "We did a few shots of that and a couple of others which I've done during games last season. It's great to see them back on the screen, and it will be brilliant to see them on the game."
The game seeks to capture the player's elation at scoring a goal.
"Mainly all the celebrations I did last season, such as jumping up and pumping my fist. Also running with my arms out like a plane," he concluded.