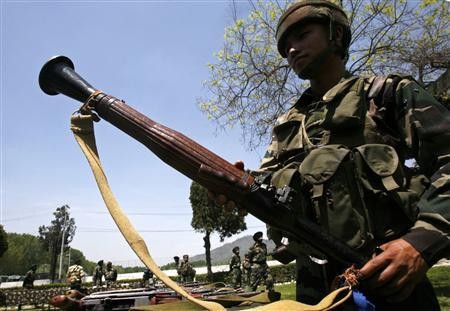 Suspected militants attacked a camp of CRPF (Central Reserve Police Force) in Srinagar's Bemina area on Wednesday leaving five paramilitary police dead.
Reports said that two militants were killed in the fidayeen attack (suicide squads). Three civilians, who were injured, have been taken to hospital, said J&K chief minister Omar Abdullah.
"Today five CRPF jawans were killed and four to five were injured in the fidayeen attack at a CRPF camp in Srinagar at 10:45 am," Omar said, according to CNN-IBN.
The attack took place near a school in the Bemina area at around 10.45 am. The school in the area was closed due to a strike that called for the return of Mohammad Afzal Guru's body. The Parliament-attack convict was hanged on 9 February in Tihar jail.
No children have been injured in the attack.
A senior police official confirmed that the two militants were killed by CRPF personnel during cross-fire. Over 100 policemen were deployed in the area after the firing was stopped.
Officials have begun a search operation to see if any other militants are hiding in the area.
PDP leader Mehbooba Mufti condemned the attack and said violence is not going to solve the issue.
Wednesday's firing is the first suicide attack in Kashmir in the last three years. No militant group has taken responsibility for the incident.
CM Farooq Abdullah said that he had seen even worse attacks in the past and also demanded the removal of Armed Forces Special Powers Act (AFSPA).
"This is part of the game we have to play, our enemies will continue to do this. I have seen worse than this, we will face them. Armed Forces Special Powers Act (AFSPA) will have to go. We have been saying AFSPA is needed only at borders," he said.