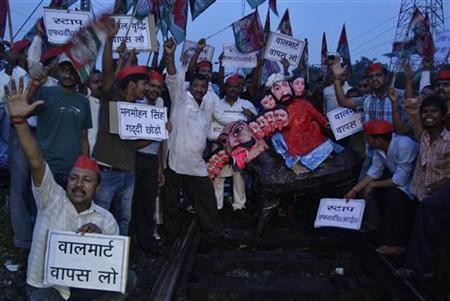 In light of the "Bharat Bandh" on Thursday called by various political parties against the reform policies announced by the Centre last week, the Federation of Indian Chambers of Commerce and Industry (FICCI) has urged the national polity to stand united and strengthen the hands of policy makers to act proactively and decisively to push the country forward.
Mr. R. V. Kanoria, FCCI president, expressed his concern over Thursday's strike, saying that it will "result not only in national losses which the nation can ill-afford, but also directly affect mainly the poorer sections of society and daily wage earners."
"We urge the Government to consider proceeding with much needed deeper reforms, as the steps taken in the past week have signaled just a start to a comprehensive reforms process. FICCI understands the burden placed on the common citizen and on businesses, due to the decision of addressing subsidies, but believes that some short term pain will be necessary for long term gain," said Kanoria in a press statement.
Opposition party National Democratic Alliance (NDA) and several other political parties on Thursday brought normalcy and business establishments across the country to a standstill by calling a nationwide protest against the decision of the Congress-led United Progressive Alliance (UPA) government to allow Foreign Direct Investment (FDI) in retail sector and diesel price hike.
The government took a decision on Friday to allow up to 51 per cent Foreign Direct Investment (FDI) in retail sector, 49 per cent FDI in domestic carriers and diesel price hike by ₹5. The economic reforms came in light of India's staggering GDP growth which slipped to 5.5 percent from 8 percent in the corresponding period last year.
The decision of the government could result in the fall-out of Trinamool Congress (TMC) from the UPA with Mamata Banerjee giving ultimatum to the government to rollback its recent decision by Friday or face withdrawal of support from her party.
Maintaining that reform policies will help the economy of the country in the long run, Kanoria said that the government should not bow down to the pressure of Opposition and other political parties.
"The government should not roll back... It will send a signal that the government is not capable of taking decisions," IANS quoted Kanoria as saying.
Kiran Mazumdar Shaw, Chairperson and Managing Director of Biocon, took a potshot at TMC chief Mamata Banerjee and other political leaders who oppose the policy decision of the government.
"Good economics does not make for good politics. The poverty card suits political agendas. Vote banks remain solid if the poor remain poor," Shaw tweeted. "Mamta Didi is a maverick politician who depends on a vote bank of poor people. Her economic agenda is not aligned with strong economic growth."
She went on to say: "Unfortunately congress n UPA have such a huge trust deficit that even good reforms are met with suspicion. The fear of FDI retail can be answered by the same fear that was expressed when McDonalds n other chains were allowed."
Anand Mahindra, chairman of Mahindra & Mahindra, also urged the government not to roll back its recent policy decisions.
"We urge the government to stand its ground. Right-thinking Indians will be less than amused by partisan politics in a fragile economy," IANS quoted Mahindra as saying.
FICCI President Kanoria said that everyone will benefit from the fresh investments and the rural population is no exception.
"Despite a general atmosphere of disappointment as far as fresh investments are concerned, FICCI believes there are multiple evidences to demonstrate that India has been moving ahead in many ways. The gain is no longer limited to in large urban centers, but has permeated to the "small village India" that has been an important driver of consumption led growth, particularly for consumer goods," said Kanoria.