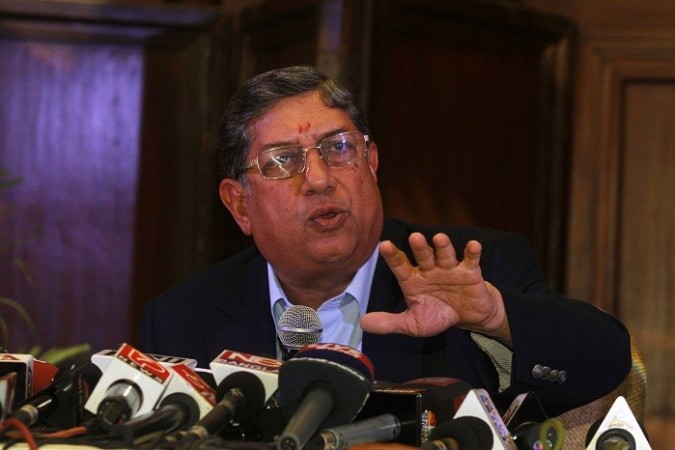 The Federation of International Cricketers' Associations (FICA) has stated that there is no role for former BCCI president N Srinivasan in ICC, following corruption charges that led to the Supreme Court ordering the industrialist to step down from his BCCI post.
Paul Marsh, the head of the FICA, has now asked Srini to stay away from all matters concerning ICC. The news comes as yet another setback for Srini as he was supposed to take charge as the ICC chief in June-July this year. Marsh has urged the ICC to take note of the SC proceedings, before taking any further decisions.
"Serious allegations of betting and spot fixing in IPL 2013 have been made against Gurunath Meiyappan as the alleged Team Principal of Chennai Super Kings and these remain the subject of proceedings before the Indian Supreme Court," Marsh said in a media release on Friday. "While we are pleased that Srinivasan, at the behest of the Supreme Court, has agreed to step down from his duties as BCCI President, we are of the firm belief that he should not be exercising any functions on behalf of the ICC either, while any investigations concerning his conduct or that of his company are pending or unresolved."
The SC had earlier ordered all members related to India Cements to be barred from IPL and BCCI related activities. India Cements owns the Chennai Super Kings franchise and is in turn owned by Srinivasan whose son-in-law happens to be the now-infamous Meiyappan, against whom serious IPL betting allegations have been made.
"The cricket world has been told time and again by the ICC that corruption is the game's biggest issue and that the game has a zero tolerance approach to it," Marsh added. "For our game to survive we need it to be not only free of corruption but free of any suspicion of corruption.
"The ICC needs to put the reputation of the game and confidence in its procedures first. The players, and other stakeholders in the game, are entitled to expect this from the ICC's Executive Board. Under the current circumstances, the prospect of Srinivasan taking the highest posting in world cricket while these matters are unresolved, is an impossible one."
It also needs to be noted that Srinivasan remains the BCCI representative at ICC events, despite growing tensions in India. The next executive board meeting is on 9 and 10 April and comments regarding the FICA concerns are awaited.
(Edited by Vishnuprasad S Pillai)