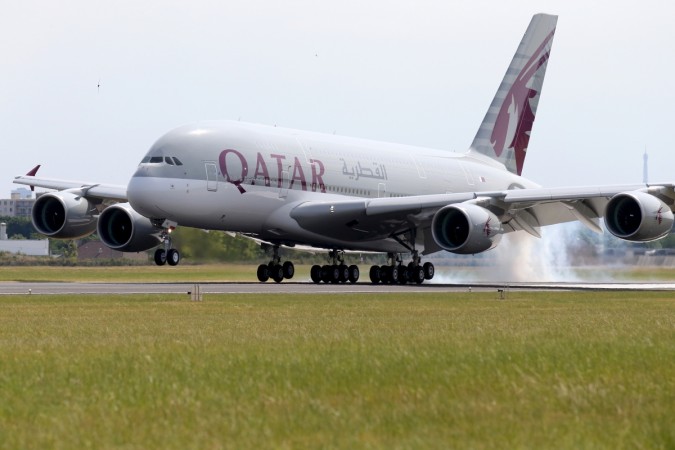 Hell hath no fury like a woman scorned. While we have all heard this saying, Qatar Airways has experienced it firsthand. A woman passenger, who was in an inebriated state, is said to have created a ruckus on the plane, after finding out about her husband's affair.
The Iranian passenger was onboard Qatar Airways' Doha-Bali flight on Sunday, November 5. She unlocked her sleeping husband's phone and found out that he had been cheating on her, reported the Times of India. She then reportedly had an argument with her husband and even behaved badly with the crew members, who tried to calm her down.
As the woman would not back down and created quite a ruckus annoying fellow passengers, the flight had to be diverted to Chennai, where the husband and wife and their child was deplaned. The plane then flew to Bali.
Meanwhile, officials at the Chennai airport waited for the woman to calm down. They were reportedly kept at a detention centre as they did not have Indian visas. Later, the family was put on a flight to Kuala Lumpur from where they could take another flight to Doha.
A CISF official told TOI that the passenger argued with her husband and the crew members and hence had to be deplaned. "On November 5, at about 10 am, Qatar Airways flight QR-962 (Doha-Bali) was diverted to Chennai. A lady along with her husband and a child, all Iranian nationals, were offloaded by Qatar Airline as the lady passenger (who was intoxicated) misbehaved with crew members inflight. They were sent to Kuala Lumpur by Batik Air flight 6019 for further travel to Doha."
However, Qatar Airways has not spoken about the incident and did not say that the flight had been diverted. "In respect of passenger privacy we do not comment on individual cases," a Qatar Airways spokesperson said.