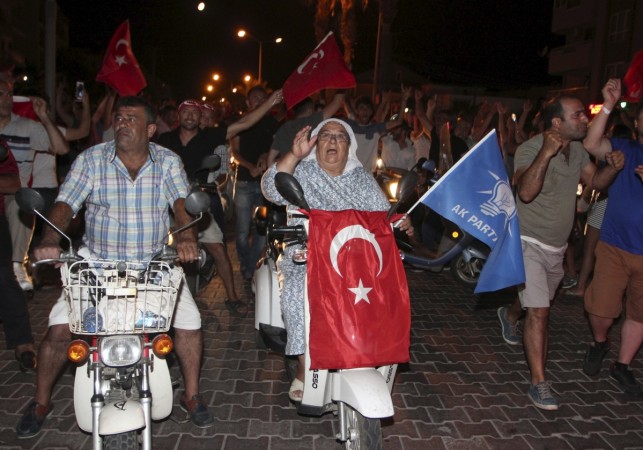 Turkish President Tayyip Erdogan accused Fethullah Gulen, an exiled cleric living in the United States since 1999 after being charged with treason, of having masterminded and orchestrated the attempted coup d'etat on Saturday morning that has injured over 1,150, killed at least 90 people and led to the arrest of 1,563 military personnel.
"They were being told what to do from Pennsylvania. Turkey won't be frightened with this kind of uprising and Turkey cannot be governed from Pennsylvania," Turkish President Tayyip Erdogan was quoted as saying by NBC NEWS shortly after his arrival in Istanbul's airport early on Saturday.
However Gulen, denied any role in the attempted coup in Turkey and condemned it "in the strongest terms".
"For more than 40 years, Fethullah Gulen and Hizmet participants have advocated for, and demonstrated their commitment to, peace and democracy. We have consistently denounced military interventions in domestic politics. These are core values of Hizmet participants. We condemn any military intervention in domestic politics of Turkey" Gullen's organisation, the Alliance for Shared Values said in a statement on Friday.
"I condemn, in the strongest terms....The attempted military coup in Turkey,As someone who suffered under multiple military coups during the past five decades, it is especially insulting to be accused of having any link to such an attempt. I categorically deny such accusations," Gulen was quoted saying by The Hindu in a two paragraph statement late Friday.
"Government should be won through a process of free and fair elections, not force...I pray to God for Turkey, for Turkish citizens, and for all those currently in Turkey that this situation is resolved peacefully and quickly," he added.
Gulen gained prominence in Turkey after advocating values of democracy, education, science and interfaith dialogue through mystical Islam, which eventually transformed him into a tycoon that ran universities, hospitals, charities, a bank, a large media empire with newspapers, radio, TV stations and 1,000 schools in more than 100 countries.
The 75-year-old reclusive Islamic preacher, once a close ally of Erdogan, continues to enjoy the support of the media, police and judiciary in his native country, despite the fact that corruption charges have been levelled against him. In turn, he too had accused Erdogan of corruption.
After Gulen levelled corruption charges that sought to implicate Erdogan's inner circle, including his son Bilal, President Erdogan unleashed a furious purge against hundreds of army officers, including top generals and eventually shut down schools, fired editors and shut down newspapers operated by Gulen's Hizmet followers. Hundreds of police officers were also fired.
Hizmet -- meaning service in Turkish -- advocates a mix of Sufi mysticism and harmony among people based on the teachings of Islam.