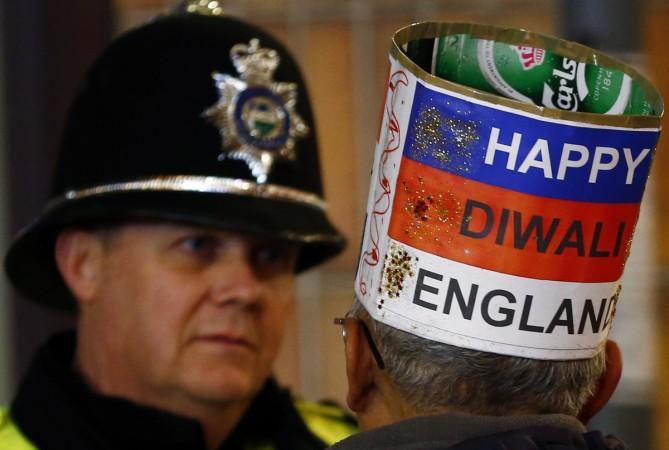 The festival of lights, Diwali, is not only brightening up India, but almost the entire world where the Indian diaspora marked their presence across the globe.
These include the UK, the US, Russia, Australia, Nepal, Sri Lanka, Mauritius, Guyana, Fiji, Malaysia, Singapore, Thailand, Japan, Indonesia and South Africa, where the festival of lights is celebrated with fervour.
Being the second-largest ethnic minority in Britain, all Indian festivals are celebrated in a grand manner there, but come Diwali, they have the largest fête over any other place outside India. In fact, Diwali 2014 celebrations in Leicester attracted over 35,000 people, according to BBC.
After Belgrave Road was lit up with 6,000 lamps on Sunday, there was a firework and laser show at Cossington Recreation Ground, which will also serve as the venue for the festivities on the actual day of Diwali, 23 October.
"People flock to Leicester from all parts of the UK and from overseas... That is how well-known and renowned Leicester's Diwali light celebrations are and it is just the beginning of the celebrations," said Jashvant Chauhan, vice-president of Leicester's largest Hindu temple Shree Sanatan Mandir.
Even Twitter users like Mel D commented, "Happy Diwali ! One of these days I will go to Leicester and properly enjoy the celebrations (biggest outside of India)"
Barck Obama, who was the first US president to celebrate the festival of lights in 2009, has sent Diwali wishes to everyone this year too. "I want to wish a Happy Diwali to all those who are celebrating the festival of lights here in the United States and around the world," he said.
The Obama administration is also holding the Annual Diwali Celebration on 23 October at 6pm, which will be hosted by Secretary of State, John Kerry, according to the US Department of State.
Diwali is one of the most popular Indian festivals in Moscow, with Lakshmi Puja and lighting Diyas. However, they do not light diyas outside their flats or indulge in bursting fire-crackers, following the local security rules.
Diwali not only brings together the Indians in Russia, but also the people of other cultural and religious backgrounds. The celebrations in the Gubkin Cultural Centre on Saturday saw around 1,000 guests, which included Russians and even Pakistanis, according to Russia and India report.
Australia has population of over 2,00,000-strong South Asian community and recognising this, the Sydney Opera House was lit up in a vibrant orange colour to celebrate Diwali, New Kerala reported.
"People from India, Pakistan, Bangladesh, Nepal, Sri Lanka as well as South East Asia have brought with them the rich traditions of Deepavali and we appreciate the positive contributions they've made to our multi-cultural society," the minister for citizenship and communities, Victor Dominello, said.
Sydney Opera House was illuminated last night to celebrate #Deepavali. Photo by muhammadua on @instagram. pic.twitter.com/6wctfQXUAv

— Sydney Opera House (@SydOperaHouse) October 22, 2014
While most long-term residents are celebrating Diwali 2014 with enthusiasm, those celebrating Diwali outside India for the first time aren't too happy about it.
Aay Kay posted: "First Diwali outside India. Eerily sterile."
Preethy Kanthan said, "First Diwali Outside Home, Outside India Mixed feelings"
Angad Singh Gumber tweeted, "Eagerly awaiting to play cards on Diwali. This is my first Diwali outside India. Will miss my family a lot."
Bored RakuTheDakku tweeted, "Celebrating diwali outside India is not the same at all... Its so boring "
Watch the video of the night fireworks at Cossington Recreation Ground in Leicester: