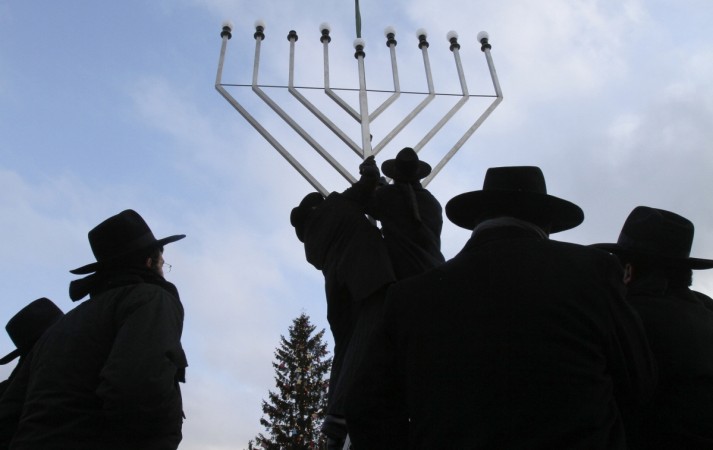 Hanukkah, the Jewish Festival of Lights, is celebrated for eight days, from the sundown of 16-24 December 2014 in the Gregoriancalender and 25 Kislev to 2 Tevet 5775 in the Hebrew calendar.
Hanukkah or Chanukah is celebrated in memory of the menorah that miraculously burned continuously for eight days in the Holy Temple in Israel. Today, Jews everywhere light menorahs on each night of Hanukkah.
While there are countless movies about Chrismas and Thanksgiving, movies about Hanukkah are fewer in number. Below are some of the classic Hannukkah movies and special episodes of beloved TV shows that celebrate the Jewish festival of lights.
8 Movies and TV Show Specials for Hanukkah 2014:
"Even Stevens" Season 1, episode 15: In "Heck of Hanukkah," Louis Anthony Stevens (Shia LeBeouf), the youngest in the Stevens clan, can't wait to get his eight days of presents. He sneaks them upstairs and accidentally destroys all the Hanukkah gifts for his family. He is then taken to an alternate universe where he was never born by a spirit who grants his wish. The episode airs on Thursday at 1:45am and again at 6 pm EST on Disney Channel.
"The Hebrew Hammer": This 2003 film starring Adam Goldberg relates the story of a Jewish superhero that fights crime. He has to save Hanukkah from Santa Claus' evil son or else everyone in the world will have to celebrate Christmas. The R-rated comedy can be viewed on Amazon Instant Video.
"Rugrats" Season 4, episode 15: In the special "A Rugrats Chanukah", the babies re-imagine the history of Hanukkah with Tommy (Elizabeth Daily) as Judah. This family-entertainer episode will teach kids the true meaning of the Jewish holiday and entertain adults. The "Rugrats" gang embark on a journey of enlightenment after misunderstanding the word "meaning." While the episode will not be aired on television this holiday season, it is available on Amazon Instant Video.
"Eight Crazy Nights": The 2002 animation film has Adam Sandler voicing the town delinquent Davey, who is given one last chance to redeem himself with his community and imbibe the true meaning of Hanukkah. Catch the movie on Amazon Instant Video.
"The O.C" Season 1, episode 13: In "The Best Chrismukkah Ever", Seth Cohen (Adam Brody) and Summer Roberts (Rachel Bilson) manage to celebrate both Hanukkah and Christmas. Troubled child Ryan Atwood (Ben McKenzie) is also introduced to the joys of having a Christian father and a Jewish mother by Cohen. Watch the Hanukkah special episode on Amazon Instant video.
"Little Fockers": Ben Stiller's sequel to 2000 film "Meet the Parents" features a mixed-marriage celebration and awkward family moments that makes us believe that the Christmas-Hanukkah hybrid truly is a real holiday. This fun family entertainer can be viewed at Amazon Instant Video.
"The Nanny" Season 6, episode 10: Titled "The Hanukkah Seed," this episode of the sitcom, starring Fran Drescher as Fran Fine, blends Fran's Jewish traditions with Maxwell Sheffield's (Charles Shaughnessy) Christian ones. Watch the episode on TV Land on Saturday at 3:16am and again at 8:24am EST.
"F.R.I.E.N.D.S" Season 7 episode 10: In "The One With The Holiday Armadillo", Ross Geller (David Schwimmer) wants to teach his son about Hanukkah. But, young Ben is excited about Christmas and Santa Claus. Towards the end of the episode though, Ben is stuck with a Santa Claus (Chandler), a Superman (Joey) and a "Holiday Armadillo" (Ross). The episode can be viewed on Amazon Instant Video.
Now, to truly get into the spirit of the holidays, watch this video of Jewish guys dancing to the parody of Taylor Swift's "Shake it Off".