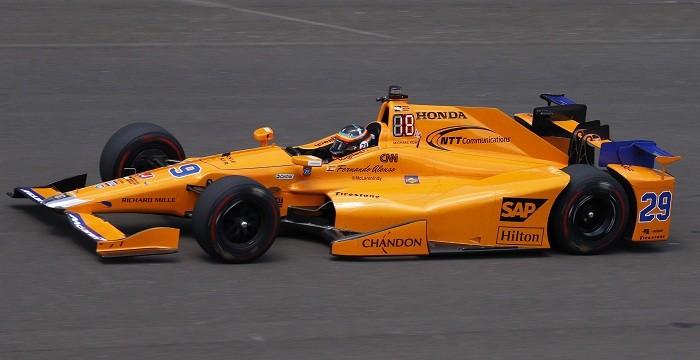 Two time Formula One champion Fernando Alonso is set to race at the Indy 500 later this month and will miss the 2017 Monaco Grand Prix as he looks to win motor sports crown jewel – the Triple Crown. To win the Triple Crown, one must win the Monaco Grand Prix, the Indy 500 and Le Mans.
The Spaniard has already won the Monaco Grand Prix twice and is now looking to win the Indy 500 as he looks to take a step closer to become only the second racer in history to win the Triple Crown.
Also read: Watch as Fernando Alonso kills two birds during first test in Indianapolis
Alonso, who drives for McLaren in Formula One, finished his first race last weekend as he managed a 12th place finish and immediately left for US as he continued his preparation for this year's Indy 500. The race is scheduled to take place on May 28, the same weekend as the 2017 Monaco Grand Prix and Alonso still has a lot of work to do.
He completed 117 laps during day two of practice, more than any other driver, and finished 24th fastest out of 33 cars with his best lap time of 221.029 mph which was way below the time of 223 mph which he set on Monday.
Alonso dedicated two segments of the day to running with his Andretti Autosport team-mate and this was the first time he was able to run in traffic for a long time and said his teammates were a big help in understanding how to run in traffic.
Check out Fernando Alonso's complete practice session and his interview.
"It was a very positive and productive day with a lot of laps and a lot of learning," Alonso said afterwards. We did some group running finally with some traffic, information that I will sleep on and use to be a better oval driver tomorrow," Autosport.com quoted Alonso as saying.
"It felt OK, it felt as I expected. Obviously, here it is very important to keep close to the car in front of you to take the benefit on the next straight, so it was useful."
"I'm on the best team for that. My team-mates were amazing helping me, I knew they were taking care of me in some moments of the run, so that was good. It's the first time for me, learning here and there every lap when I follow them, what they do, how they attack the next corner or the next lap, how they prepare the overtaking."
Alonso seems really dedicated to proving himself at the Indy 500 and is working round the clock to prepare himself in time for the qualifying and race. The Spaniard has been studying all the data his team provides and watches previous races and also goes to the simulator in the morning followed by laps in the afternoon.
Alonso will be hoping to replicate Alex Rossi, a former Formula One driver, who won the Indy 500 last year as a rookie.