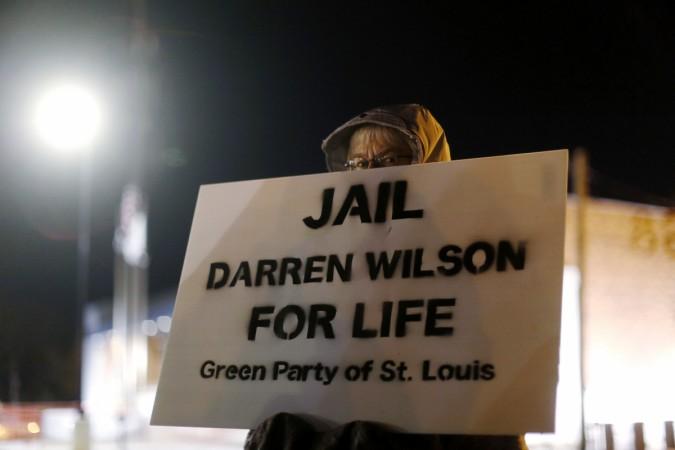 Although the verdict on the Michael Brown case is yet to be delivered by a Missouri grand jury, anger over the event is still simmering with one Militant group promising a bounty or a cash reward for anyone who tells them the location of Ferguson police officer Darren Wilson.
Wilson has angered much of the black community in the United States after he shot and killed an unarmed 18-year-old on 9 August 2014. The 28-year-old officer has been hiding on paid leave ever since the incident snowballed into a major unrest and sparked a nationwide debate over racism in recent weeks.
While the verdict is yet to be announced on the case, one extremist group named 'RbG Black Rebels' seems to have already declared Wilson guilty of having murdered the black teenager.
The group posted on Twitter what looks like a cash reward for anyone willing to give information on the police officer's whereabouts.
"We are paying $5k cash for location of Ofc. Darren Wilson. Real $, no joke, no crime we just wana get his photo and ask him a few questions," the group said in the tweet.
Although the RbG Black Rebels claim that it is not a bounty on the officer's head, the cash offer comes close on the heels of a series of chilling and malevolent online posts by the group that boasts about stockpiling ammunition, cleaning out gun stores and being 'War Ready' ahead of the verdict.
In one of the recent posts, the group said: "Countdown to te St. Louis Purge has begun. Gun stores emptying out, ppl are stockpiling water, food & gas. Police mobilizing for war #Purge".
The police in Ferguson and across Missouri are taking no chances ahead of the grand jury's verdict on the case. Governor Jay Nixon has already declared a State of Emergency and promised to make the National Guard available in case of a riot-like situation.
It is not clear when exactly the ruling will be passed but newspapers and sources have speculated that it could be announced any day over the next several weeks.