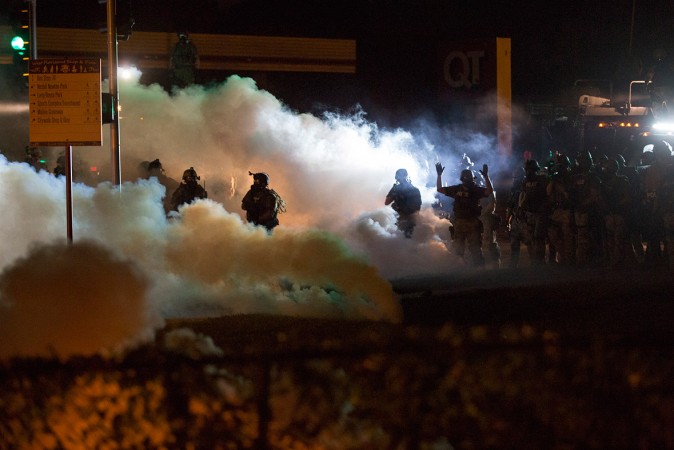 With violence escalating on the streets of Ferguson, Amnesty International - for first time in its history - has sent a team to investigate human rights violations inside the US.
Following the police and state troopers' attack on protesters, Amnesty has sent a 12-member team to Ferguson to observe police and protester activity, gather testimony, seek meetings with officials and offer support to the community. The group also wants to train local activists in non-violent protests, read an Amnesty USA statement.
"Our delegation will remain in Missouri until we have a clear picture of what is taking place on the ground, and we are able to work effectively with local activists on how to defend human rights at home," said Amnesty International USA's executive director, Steven W. Hawkins.
Michael Brown was shot to death by police officer Darren Wilson in the Missouri city on 9 August. The unarmed black teenager was shot at least six times, including twice on the head, according to his autopsy report.
The situation in Ferguson is swiftly escalating into a major crisis. Protesters have continued with the demonstrations, despite the curfew declared by Missouri Governor Jay Nixon.
The Independent, based on eyewitnesses' account, stated that several policemen, with no visible badges, were seen hurling tear gas and rubber bullets at protesters and threatening members of the press in another night of demonstrations.
The presence of heavily armed police in the black-dominanted suburb has been criticised widely.
Jasmine Heiss, an Amnesty campaigner in Ferguson, told BuzzFeed that the use of the "cross-functional team" - which included community trainers, researchers and human rights observers - was "unprecedented" for the group within the US.
Amnesty on the scene, wearing yellow "Observer" t-shirts. #Ferguson pic.twitter.com/KlO7X8tYck

— Ryan J. Reilly (@ryanjreilly) August 17, 2014
The police and state troopers in Ferguson have also been blamed for targeting journalists.
"Get the f*** out of here and get that light off, or you're getting shot with this," the Missouri police yelled at a reporter who was filming the protests, according to Vox.
In another incident, officers in riot gear fired a tear gas at a news crew from Al Jazeera, working on a stand-up far from the action.
Cops literally just fired on what was the press area. We scrambled running. Cops continuing up neighborhood streets

— Sean Stout (@TERROREYEStv) August 18, 2014
Riot cop to me just a few minutes ago: "Get back! Or next time you're gonna be the one maced."

— Christopher Hayes (@chrislhayes) August 18, 2014