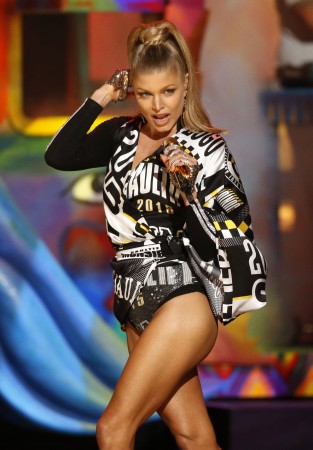 Nowadays, no award function is complete without at least one wardrobe malfunction, and Sunday's American Music Awards claimed "Black Eyed Peas" singer Fergie as its latest victim.
Just two months after releasing her first single in so many years, Fergie performed "L.A. Love" in front of a packed crowd at the annual award night. Fergie was introduced by husband Josh Duhamel before she took to the stage.
"I really couldn't be happier to introduce the next performer. She's a solo artist, a member of the Black Eyed Peas…She also makes really cute babies," he announced. "Please welcome my favorite Cali girl, Mrs. Fergie Ferg."
Although her performance went without any glitch, her attempt to seductively take off her jacket towards the end of the act did not go as planned, as viewers saw it getting stuck to her onesie and then her butt. She eventually ripped it off before the performance ended.
Fergie kicked off the award night in style by arriving to the Nokia Theatre in Los Angeles in a neon-and-pastel coloured vehicle.
"This was based on an art car, that mixed with a party bus [which] became this vehicle to take a trip and bring that L.A. kind of swag and vibe all over the world," Fergie shared with E! News. "It was a crazy entrance. I just didn't want to come back after all these years and just come in a normal car. Make it big! It was like an L.A. trinity moment."
Duhamel and Fergie welcomed their first baby, Axl, last year, and the singer believes that the little one has tremendously influenced her latest songs. "Some of it," she told E!News when asked how much Axl has shaped her music. "I don't know what he's going to think about this when he's older but whatever. I'll just figure it out as I go."
Interestingly, Sunday's event saw many celebrities revealing a bit too much skin. Television personality and recording artist Bleona Qereti attended the award night donning a mesh see-through dress that showcased her underwear and silver nipple pasties. She completed the look with black heels and red lipstick.