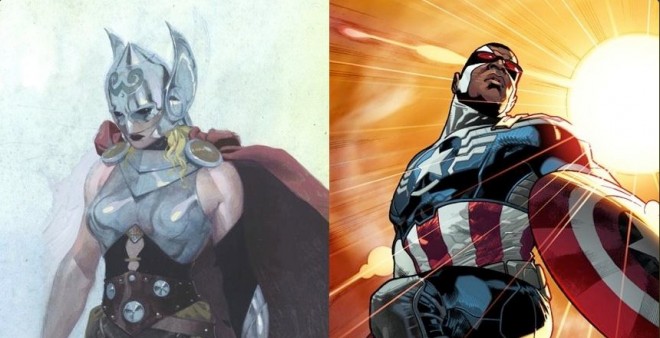 Last year, Marvel had teased two new characters that would enter their universe, a Female Thor and a Black Captain America. And, before anyone else could leak the identity of the new "God of Thunder", Marvel itself unveiled the same ahead of "Thor #8" release.
The revelation was made to the New York Times on 12 May, wherein it was stated that Thor is none other than Dr Jane Foster, a former girlfriend of the mighty Thor of Asgard. The role is portrayed by Natalie Portman in the "Thor" movie series.
"Jane Foster has been part of the Thor comics and the Thor mythology from almost the very beginning," said Jason Aaron, Thor series writer. "The very act of picking up this hammer, of becoming Thor, is killing her. Where we go from here is the real story."
Jane is said to take up the identity of Thor for the sake of humanity, and not for the glory that comes with it. For those who cannot read the transcript, the female yielder of mjolnir says: "The world needs a Thor. That's all that really matters. We need a God who understands what it means to be humbled. To be Mortal. A god who knows how precious life is. How delicate. A God who struggles everyday to live a worthy life. Who suffers so that no one else will have to. A God who loves Earth enough to die for it."
Marvel Comics have revealed the new female Thor! pic.twitter.com/ein7JeZKfb

— Jonathan Duguid (@JonathanDuguid) May 13, 2015