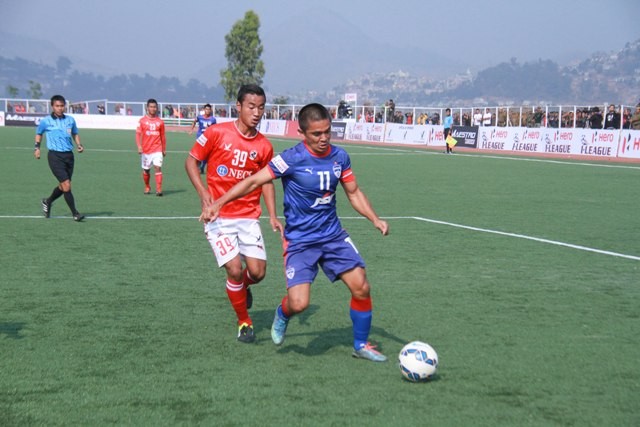 The I-League 2015-16 season may have ended, but the Indian football fans still have reasons to cheer as the Federation Cup 2016 is here. The top eight teams from the domestic league this season, according to the final standings, will participate in the tournament, beginning Saturday.
There will be a total of 13 games in the competition, which will have a knockout format this time around. The matches, including the two rounds and four semifinals, will be played on a home and away basis. The final, meanwhile, will be played at a neutral venue.
"As per the regulations of the tournament, the lower ranked teams (as per the standings of the Hero I-League) are to play their home match first," stated an All Indian Football Federation (AIFF) release. "Round One is scheduled to be played on April 30, May 1 and May 2; while Round 2 will be played on May 3, 4 and 5, 2016.
"The first round of the semifinals is to be played on May 7 and May 8 with the return legs slated for May 14 and 15."
Aizawl FC, who have been relegated from the I-League this season, will however be a part of the tournament since they stood eighth in the nine-member I-League. DSK Shivajians had stood ninth in the league this time but they weren't demoted to the Second Division League as the Pune side were awarded a relegation immunity by the AIFF for three years.
Aizawl FC have been drawn to take on I-League champions Bengaluru FC over the two legs.
Indian national football team coach Stephen Constantine, who kept a close eye on the Indian players during the tenure of the I-League this season, is now looking forward to the 2016 Federation Cup in an effort to discover more talents.
"The Hero Federation Cup gives us the opportunity to look at more players whom we have been following very closely. With the format being home and away, I expect it to be very interesting," said Constantine in another AIFF release.
Here is the full schedule of the matches:
| | | | | | |
| --- | --- | --- | --- | --- | --- |
| Date | Home team | | Away team | Time | Venue |
| Apr. 30 | Aizawl FC | v | Bengaluru FC | 3 pm | Rajiv Gandhi Stadium, Mizoram |
| May 1 | Shillong Lajong | v | East Bengal | 5 pm | JLN Stadium, Shillong |
| May 1 | Mumbai FC | v | Sporting Clube de Goa | 7 pm | Cooperage Stadium, Mumbai |
| May 2 | Salgaocar FC | v | Mohun Bagan | 4:30 pm | Tilak Maidan, Goa |
| May 3 | Bengaluru FC | v | Aizawl FC | 7 pm | Kanteerava Stadium, Bangalore |
| May 4 | East Bengal | v | Shillong Lajong FC | 7 pm | Barasat Stadium, West Bengal |
| May 4 | Sporting Clube de Goa | v | Mumbai FC | 4:30 pm | Tilak Maidan, Goa |
| May 5 | Mohun Bagan | v | Salgaocar FC | 7 pm | Barasat Stadium, West Bengal |
| May 8 | Mohun Bagan | v | Shillong Lajong | TBD | Barasat Stadium, West Bengal |
| May 10 | Aizawl FC | v | Sporting Clube de Goa | TBD | Rajiv Gandhi Stadium, Mizoram |
| May 14 | Shillong Lajong | v | Mohun Bagan | TBD | JLN Stadium, Shillong |
| May 15 | Sporting Clube de Goa | v | Aizawl FC | TBD | Tilak Maidan, Goa |
| May 21 | Mohun Bagan | v | Aizawl FC | TBD | TBD |