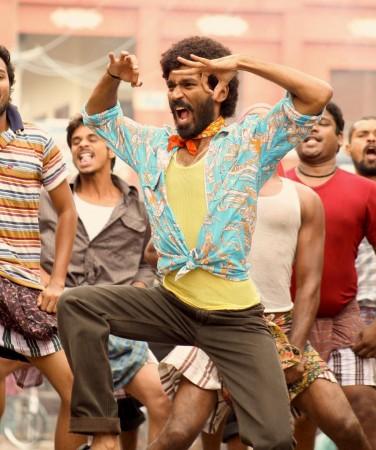 South superstar Dhanush is on a role, the actor has three of major releases coming on his way this February. His films "Shamitabh" and "Anegan", in which he plays the lead and "Kaaki Sattai" where he is the producer are all set for their release in February.
"Shamitabh" is the first of three to release on 6 February, followed by "Anegan" on 13 February and "Kaaki Sattai" on 27 February.
"What a month February is turning out to be. Hoping for the best with all the projects :)," tweeted Dhanush.
"Shamitabh"
The movie is the second Bollywood film of Dhanush. He will share the lead role in the movie along with legendary actor Amithabh Bachchan. The movie will also see Akshara Haasan, daughter of Kamal Haasan, making her debut.
Directed by R Balki, it revolves around two different people who have unique qualities and are exceptional in their own fields. At the same time, they lack something which the other has and the movie talks about how these two extremely egoistic individuals come together and make progress in their lives.
"Anegan"
"Anegan" directed by KV Anand is touted as a romantic thriller film in Tamil. The trailer and the songs of the film, which was released earlier had received overwhelming response.
The film which will hit theatres on 13 February will reportedly be the biggest release in Tamil. The movie will have 400 screens in Tamil Nadu alone and more than 1,000 screens excluding the Hindi versions in 'rest of India'.
The actor will be spotted in four different looks in the movie and the trailers had given the hint that the movie revolves around concepts of love, romance, revenge, fantasy and imagination.
"Anegan" also has a star cast of Amyra Dastur, Karthik, Aishwarya Devan, Ashish Vidyarthi, Atul Kulkarni, Mukesh Tiwari, Vinaya Prasad and Arul Vijay.
"Kaaki Sattai"
"Kaaki Sattai" which stars Siva Karthikeyan, is the fourth movie to be released under the banner of Dhanush's production company Wunderbar Films.
The movie which is set to release on 27 February is directed by Durai Senthil Kumar and the film is touted as an action-comedy entertainer with all the commercial elements. This is the second time that Sivakarthikeyan has teamed up with director Durai Senthil Kumar after the blockbuster "Ethir Neechal."
Sivakarthikeyan will don the role of a police officer for the first time in "Kakki Sattai" and Sri Divya will play the lead opposite him. The rest of the cast includes Prabhu, Manobala, Vidyulekha Raman, Imman Annachi and Vijay Raaz.