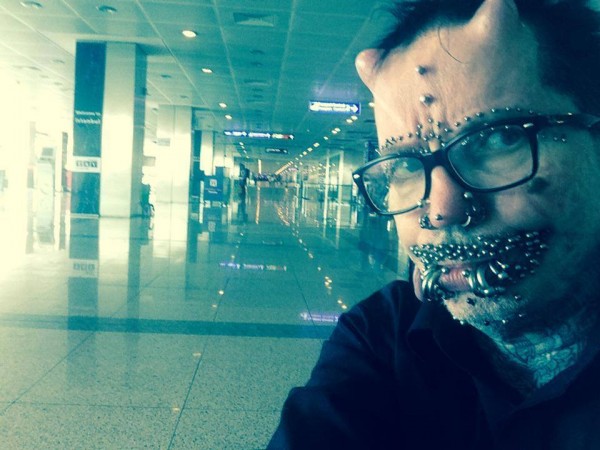 Metal detectors in Dubai airport didn't keep Rolf Buchaholz - the most pierced man in the world - from Dubai. However, the hundred piercings clearly visible on his face may have scared off the immigration officials.
Last week, Buchholz, an IT professional obsessed with making world records, travelled to Dubai to appear at the Cirque le Soir nightclub in Dubai's Fairmont Hotel on Friday. The circus-themed venue, that opened in 2011, offers a wide range of shows: "Stilt walkers, midgets, contortionists, tattooed dancers, jugglers, drummers, burlesque dancers, sword swallowers, magicians and fire eaters," according to its website.
Buchholz had kept his fans informed about the unfornate event of him not being let into the country and what followed via live tweets.
On 15 August, around 11.14 am (local time) he posted, "I am at Dubai airport. They let me not in the country. The luggage is lost. I am ok."
Around 3.30 pm on the same day, a clearly disheartened and frustrated Buchholz tweeted, "On the way back home. Dubai I will never come back!!!"
Dubai is considered the most liberal city in the Middle East and has visibly embraced cosmopolitanism and welcomed foreign travellers. Alcohol flows freely in its clubs and citizens dress as chic as they want to. However, when it comes to traditional Islamic values, Dubai remains as adamant as its neighbours.
It is understood that judging by his appearance, the officials felt that Buchholz is a practitioner of black magic.
"At the end I got an answer why I can't enter Dubai: The Immigration thought I am Black Magic. Stupid people," tweeted Buchholz at 8.29 pm on Friday.
Although, he did get back to Germany safe and sound, his luggage was held back in Dubai, according to his tweet on 16 August.
Many of his followers have been posting various stories, that has emerged since the time he was denied entry to Dubai, on his FaceBook page, with the comments:
'You're on the homepage of The Guardian World website today, m'dear"- Korina Kay Abbott
"Number 1 most read story on BBC website! That is very impressive"- Neil Truth-Wizard Richards
"you are in all papers Rolf" - Jelena Cosic
The 55-year-old German was the first to be awarded the title of most pierced man by the Guinness World Records on 5 August 2010. As of 2012, he has 16 piercings in his right ear, 15 in his left ear, 25 in his eyebrows, 8 in his nose, 94 in and around his lips, 2 in his tongue, 8 in the rest of his body, 3 in his nipples, 4 in his navel and 278 in the genital area. He is also heavily tattooed and has a pair of horn implants on his forehead.