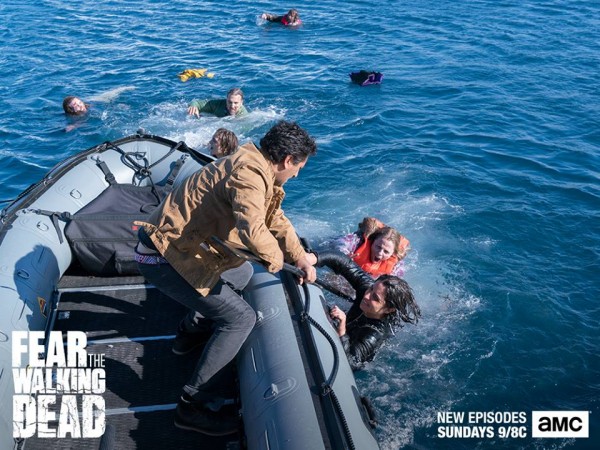 Season 2 of AMC's horror-drama series "Fear the Walking Dead" has been confirmed by the channel to be airing sometime in 2017. The channel has said Season 3 would consist of 16 episodes.
According to LA Times, Charlie Collier, president of AMC, has praised the show's creators David Erickson and Robert Kirkman for the series. He said what Erickson and Kirkman have invented in "Fear the Walking Dead" is worthy of applause.
"Watching Los Angeles crumble through the eyes of our characters and seeing each make decisions and try to figure out the rules of their new world — it's fresh, eerie and compelling and we're all in for the ride," Collier said.
"As Victor Strand (Colman Domingo) observed, 'the only way to survive a mad world is to embrace the madness.' We thank the millions of fans for embracing this mad world and look forward to sailing far into the future."
The current season of the series is set mostly at sea, where survivors are defending their yacht, Abigail, from the zombies.
As reported by Inquisitr, talking about the set-up, Erickson said, "Los Angeles is one thing, but there's something very discomforting about being in the middle of the ocean. The danger they represent is a different kind of claustrophobia."
However, Erickson made it clear that even though most of Season 2 is set in the waters, the show will eventually return to dry land. He also said the upcoming episodes would explore what it feels to be an "apocalyptic refugee."
Huffington Post has reported that this is the first time a zombie apocalypse series has taken to the high seas, and that it would be interesting to watch the cast trying their best to survive on Abigail while defending themselves from the zombies.
Besides Season 3 of "Fear the Walking Dead," AMC also confirmed the third season of "Talking Dead: Fear" hosted by Chris Hardwick.