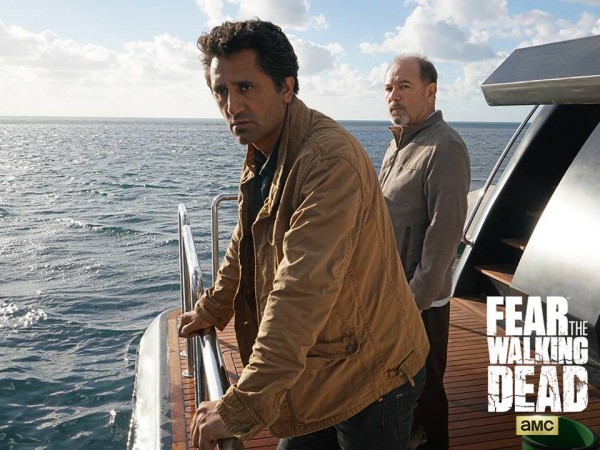 The first season of AMC's "Fear the Walking Dead" ended on a thrilling note and left the fans eagerly waiting for more. Now that Season 2 has been confirmed to premiere this year, there are a number of spoilers popping up on the internet.
One of such spoilers suggest that the initial episodes of "Fear the Walking Dead" Season 2 will focus primarily on Nick Clark's (Frank Dillane) adventure and his errands on the Strand's yacht called "Abigail" on which all the survivors escaped the zombie swarm.
Nick was one of the first persons who discovered the zombies in Season 1. He tried to warn his family and friends but no one paid much heed at that time as Nick was a drug addict and all of them thought that he was blabbering under the effects of those drugs.
However, Melty has hinted that things are significantly going to change for Nick in second season.
Nick had a very close relationship with his sister Alicia (Alycia Debnam-Carey) that eventually grew stronger in Season 1. Alicia was only one in Nick's family who knew how badly addicted Nick was and she tried her best to get him out of it.
Nevertheless, now it seems that the zombies' interference is going to ruin their relationship and they might distance from each other.
Alicia is depicted as a strong female character, who had a very ambitious life plan. However, the zombie apocalypse ruined everything that she wanted and now she has no other option than running away from the infected walkers as far as she can.
Lately, Nick's erratic behaviour has been making her angry more than ever and there might come a time that she may sever her close connections with him.
The report also hinted at the possibility that Nick and Strand would be against each other over several disputes of opinions regarding their escape plan. Nick might have to make a tough decision over staying by Strand's side – who is his friend and saviour, or going with his family.
Things are definitely going to be much complicated for Nick when compared with the Season 1. How he will cope-up with the situation and manage to keep his mind straight will be seen only when the next season airs.
"Fear the Walking Dead" Season 2 will air on 10 April, Sunday, on AMC.