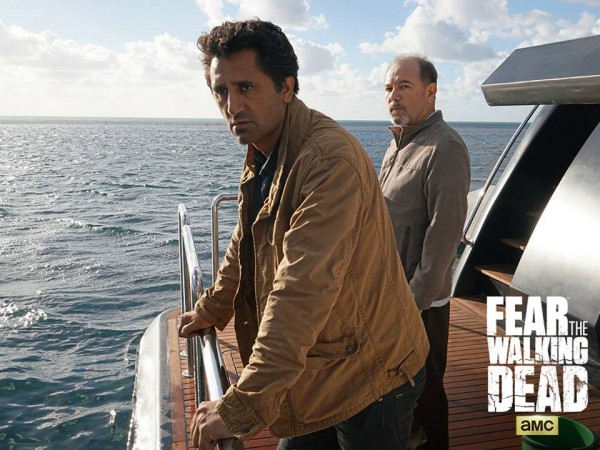 CBS' American horror-drama series "Fear the Walking Dead" is all set to return with Season 2 on television soon. A new trailer of the second season has revealed what fans can expect in the next season of the series.
According to Design & Trend, a teaser trailer has been released that gives a quick glimpse to fans of what is going to happen in Season 2.
The trailer is titled "No Safe Harbour" and shows the surviving characters from first season travelling in a yacht. The 10-second clip features Travis (Cliff Curtis), Madison (Kim Dickens), Daniel (Ruben Blades) and rest of the survivors aboard Victor Strand's (Colman Domingo) yacht.
The survivors are under the impression that they will be safe on the open water as zombies cannot swim. However, they don't know that the sea won't be providing any safety to them.
The trailer also shows a lifeboat full of other survivors signalling to the yacht for help. There is a significant possibility that some of these survivors are infected, and hence, will bring the zombie terror to the yacht and its occupants.
In an interview with Entertainment Weekly, co-creator of "Fear the Walking Dead," Dave Erickson, said that fans will encounter a "bunch of sea-bound refugees" in Season 2. Afterwards, he hinted that humans will be as dangerous as the zombies in the upcoming season.
"And much in the same way that we have taken steps to survive and compromised our morals to do so, we're going to have to deal with some people who have very similar objectives, and the default setting for most of these people is not going to be, let's all live in harmony and try to build a new community," Erikson said.
Erickson also stated that there will be much more violence and goriness in second season than first one, just like the parent show, "The Walking Dead," and there will be villains apart from zombies too.
IMDb has mentioned that "Fear the Walking Dead" Season 2 will premiere April 10 on AMC.