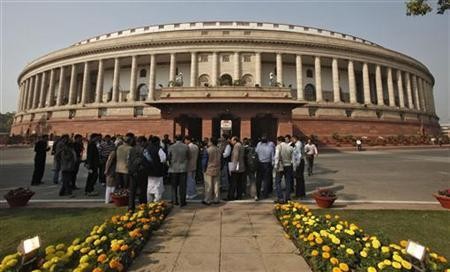 The UPA government has secured majority votes in the Rajya Sabha on Friday, getting 123 votes in favour of its decision to allow Foreign Direct Inverstment (FDI) in the multi-brand retail sector.
Around 3:15 pm, Rajya Sabha chairman Hamid Ansari announced the final outcome of the voting on FDI, saying 109 MPs had voted against the policy to introduce FDI.
The ruling coalition scored a victory by a bigger margin, helped by the 15 MPs from the Mayawati-led Bahujan Samaj Party (BSP). It was earlier predicted that the UPA would score 118 votes, which is also the majority mark of Friday's voting.
This is the second major win for the UPA regarding its policy on FDI. On Wednesday, it had won the favour of 253 MPs backing its decision.
Nine of UPA's nominated MPs to the Upper House consolidated their support to the government's decision. The tenth MP, Sachin Tendulkar, was unavailable for voting due to the ongoing India vs England test match. Also, the nine Samajwadi Party (SP) MPs abstained from voting as they did in the Lok Sabha on Wednesday.
Seeking to ensure a favourable vote in the Upper House, the UPA hastened to bring its MPs for voting. NCP member Janardhan Waghmare rushed straight from hospital to the House, while MP Janardhan Reddy gave his vote from outside, NDTV reported.
Commenting on the results of Friday's voting, Parliamentary Affairs Minister Kamal Nath said the economic reforms introduced by the government in September are on track, IBN Live reported.