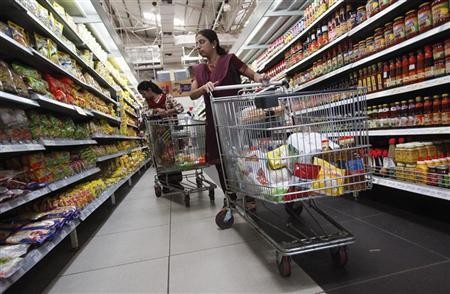 After a confortable win in Lok Sabha on Wednesday, the Congress-led UPA government will face an unphill battle to gain favour in the Rajya Sabha (Upper House) over the decision to allow 51 percent of Foreign Direct Investment (FDI) in India's multi-brand retail sector.
The UPA government on Wednesday defeated the motion moved by the Bharatiya Janata Party (BJP) in the Lok Sabha after the Bahujan Samaj Party (BSP) and Samajwadi Party (SP), which gave external support to the government, staged a walkout before the voting begun.
"FDI policy that we have put in place has the approval of this House," Prime Minister Manmohan Singh said after winning the motion.
Now, the only hurdle left before making FDI in retail a reality is a win in the Upper House, which has begun the debate on Thursday.
BJP party leaders claimed that the UPA government is not sure if they have the numbers to win vote in the Upper House. Some even alleged that the government is using a few political parties to disrupt the proceedings in the house to avoid voting.
Parliamentary Affairs Minister Kamal Nath said that the government has won in the Lok Sabha and would win in the Rajya Sabha as well. Finance Minister P Chidambaram also expressed confidence of winning votes in the Upper House.
The vote could go either way as the UPA has only 90 members in the 245-member House. The government needs 123 votes for majority but its total tally stands at 117 even if it gets support from the BSP (15 MPs), SP (nine MPs), Lok Janshakti Party and the Rashtriya Janata Dal.
BSP and SP are likely to abstain from voting in the Upper House like they did in the Lok Sabha, and their stand will affect the final outcome to a great extent. Voting in Rajya Sabha over FDI is expected to take place on Friday.