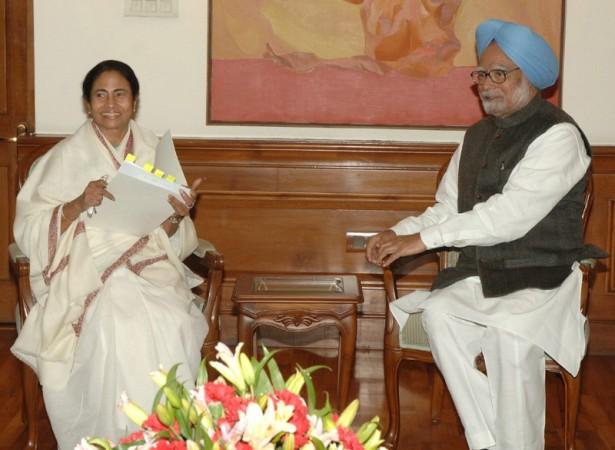 With Congress showing no sign of softening its stance on the big-ticket economic reforms, West Bengal Chief Minister Mamata Banerjee is all set to pull out Trinoomial Congress ministers from the UPA cabinet as her deadline ends on Tuesday. However, she would continue to back the Central government from the outside, said reports.
Mamata issued a 72-hour deadline for the Centre to withdraw the diesel price hike and letting FDI in retail sector, or may otherwise withdraw the TMC ministers from the UPA Cabinet. If the party does recall its ministers, it would increase the possibility of a mid-term poll.
In an earlier statement, the Trinamool Congress chief said, "We are not supporting these anti-people decisions. We are very much serious about these developments and ready to take hard decisions if these issues are not reconsidered."
Main opposition party BJP and other rival parties were strongly pitching for a mid-term poll. The Opposition party leaders were also appealing to UPA partners to pull out and make way for a snap poll.
On Monday, Shiv Sena Executive President Uddhav Thackeray suggested Mamata to stop simply threatening and to pull out from the UPA. He also appealed to National Congress Party head and Union Minister Sharad Pawar and Samajwadi Party chief Mulayam Singh Yadav to stop backing the Congress-led government.
Permitting Foreign Direct Investments (FDI) in retail, aviations sectors and the raise in diesel price hike along with the capping of LPG cylinder prices exhibited the unseen political courage of the UPA, while incurring wrath of various political parties, including allies and opposition.
Allowing foreign players to claim a larger stake in the Indian sectors has long been problematic for the government. However, the crippling economy and the fear of losing India's credit rating forced the Manmohan Singh-led government to bring in financial reforms in spite of knowing the political consequences.