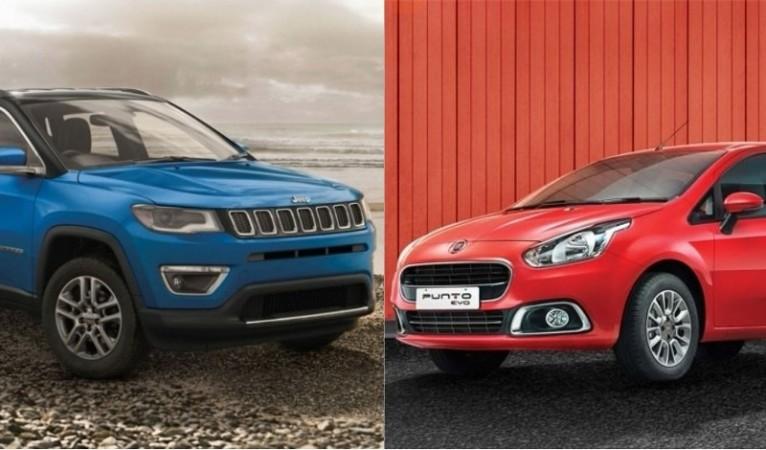 Fiat Chrysler Automobiles (FCA) India, the parent company of Jeep and Fiat is going through a roller coaster ride here. The UV brand Jeep is doing good business in India riding on the success of Compass SUV while FCA's mass-market brand Fiat brand is struggling to find takers despite it being in the business for a very long time.
The auto major brought American utility vehicle brand Jeep to India in August 2016 while the breakthrough model, the Compass SUV was launched in July 2017. The made-in-India SUV gone down well with the SUV loving customers in India and sales are steadily increasing.
Jeep launched the Compass at an aggressive price range and the sales have already gone past 15,245 units in the last seven months. The compact SUV singlehandedly keeps the winning momentum of Jeep India. The Fiat brand, on the other hand, managed to find only 756 takers in the past seven months, reports Rushlane.
Considering the fact that Fiat has been here for many years and it sells Punto Evo hatchback and Linea sedan in the mass-market, the performance of the Italian brand is dismal.
It also needs to be noted that the FCA's Ranjangaon plant in Maharashtra rolled 25,000th Compass unit recently. Meanwhile, Fiat Punto Evo's production stopped multiple times last year due to low demand.
What went wrong with Fiat?
Fiat India launched the third generation of the Punto hatchback in 2005. It got a facelift and a new name Grande Punto in 2009 and another facelift in 2012 with a new name Punto Evo. However, the basic silhouette of the car remained the same for over twelve years and that means the design of the car has been outdated. The case of Linea is also not different.
The brand has launched a couple of facelifts and crossover models based on Punto and Linea. The crossover models, such as Urban Cross and Avventura, are appealing to the eye but under the hood, they remained the same old models with not much change. This has resulted in car buyers moving to other brands.
What is the future of Fiat brand?
For now, there is no clue what would happen for the Fiat in India and the FCA has not commented on it yet. Reports indicate the company will be launching a successor to the Punto Evo and it may be called Primo. However, there is no clarity on when it would happen.