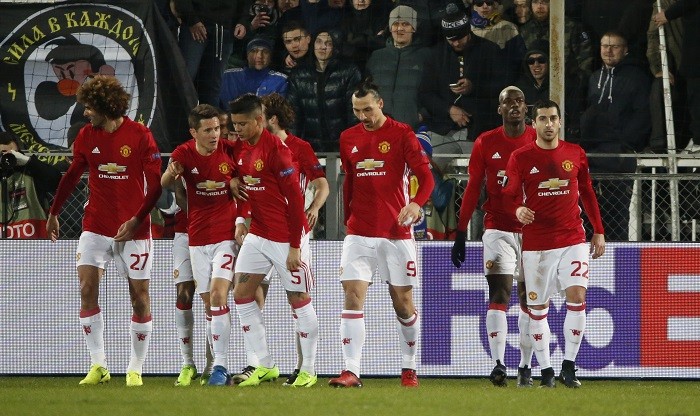 Manchester United scored the away goal they were looking for and while they could not come away from Russia with a victory, Jose Mourinho's side are in a strong position to top FC Rostov and move into the quarterfinals of the Europa League.
Barcelona vs PSG full highlights
After calling it one of the worst draws United could have had, owing to the large travel time and the state of the pitch, Mourinho will be happy to have left Rostov with a 1-1 draw from this first leg last 16 encounter.
Henrikh Mkhitaryan scored the first goal of the game, in the 35th minute, before Aleksandr Bukharov ensured Rostov would not need to overcome a deficit when they travel to Old Trafford for the second leg.
Mourinho, expectedly, made several changes to his starting lineup, even if Ibrahimovic, who is set to serve a domestic three-match ban for his elbow on Tyrone Mings in the ill-tempered draw with Bournemouth, stayed in the XI.
The Swede was the one to set the goal up for Ibrahimovic, taking a pass from Marouane Fellaini, before shifting the ball back to Mkhitaryan, who did well with the finish.
With the pitch in a poor state, this was never going to be a Europa League classic, but Rostov needed to make sure they would have something to take to the second leg, and they found that through Bukharov.
The striker brilliantly controlled a long ball over the top, before applying the necessary finish to make it 1-1 and give hope to the Russian side that they might be able to go through to the last-eight of the competition.
"It was a very good performance in relation to the conditions," Mourinho said. "It was impossible to play better, impossible to play a passing game. We played what the game demanded and we played well. We made one defensive mistake.
"We have an open result for the second leg with a little advantage for us. I think we had a positive result. We know we need to win or to have a 0-0 draw so the game is open, the tie is open. But, in these circumstances, I think it was a good result."