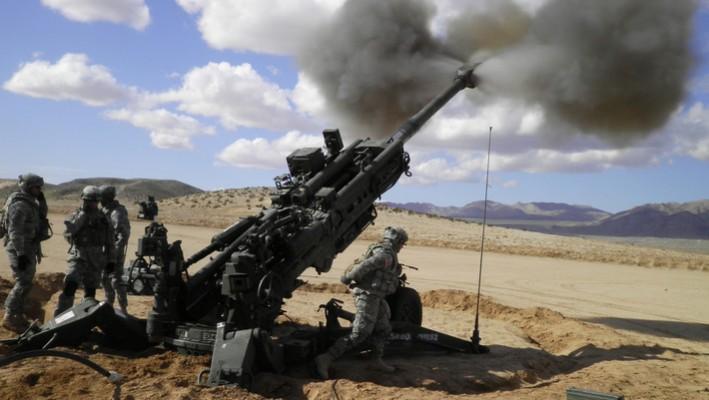 The first artillery gun, the new long-range ultra-light (ULH) howitzer M-777, which was imported from the US, was damaged during a field trial at Pokhran firing range in Rajasthan due to the explosion of a shell manufactured by the Ordnance Factory Board (OFB).
This is the third time in four months that a prototype artillery gun was being tested by the military and prior to induction had its barrel damaged due to the defective High Explosive shells from OFB.
As a part of a Rs 5,000 crore deal, the US will supply 145 M-777 howitzers. Two of these arrived in May with each worth Rs 35 crore, according to PTI. This gun, which can be slung under a copter, is likely to be deployed at high altitude locations along China border, NDTV reported.
On September 2, the US-made howitzer was being tested at the Pokhran range to collect critical data on its trajectory, speed and frequency. The shell, after being fired, exited the barrel in several pieces thus damaging the barrel of the gun.
Reports say that no army personnel were injured in the accident and a joint investigation team from the Army and BAE Systems, who are the manufacturers of the howitzer, is looking into the issue.
A spokesperson from BAE Systems said that the company was reportedly well aware of an "irregularity" that was observed during the routine field firing of the howitzer M-777.
The spokesperson further added that they were working closely with the Indian Army and the US government to explore the incident and added that the company is ready to provide assistance in any form required.
Not a first
This isn't the first time that the Indian Army has had problems with the ammunition supply from OFB. In separate incidents, in May and July, barrels of two prototypes of Dhanush artillery guns were also damaged in the same way.
Dhanush, which is similar to the Bofors gun, had cleared all trials with the Indian Army and was capable enough to strike targets at a distance of 38 km. The Army has planned to acquire 414 Dhanush guns with each costing up to Rs 14 crores.
Army needs howitzers
The Army is supposed to receive three more of these in September 2018. The induction will commence from March 2019 with five guns per month till the whole consignment is received by mid-2021.
As many as 25 guns will arrive in a flyaway condition while the rest will be assembled in India by BAE Systems with help from Mahindra Defence Systems.
Looking at the current regional security scenario, the howitzers are the need of the hour. The Army is also pressing the Narendra Modi government to accelerate the modernisation programme.