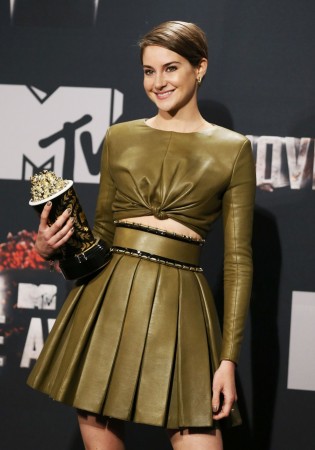 Although fans of "The Fault in Our Stars" actors Ansel Elgort and Shailene Woodley would love to see the two as an item, Elgort appears to be already in a committed relationship with high school sweetheart Violetta Komyshan.
Komyshan and Elgort reportedly met at LaGuardia High School, one of the most prestigious performing arts high schools in New York, which has Jennifer Aniston and Sarah Michelle Gellar among its alumni.
He recently was full of praise about his high school experience. " LaGuardia High School is a place of acceptance.You have every type of kid there,performing.The outcast girl would not have been made fun of in my high school," Elgort told Interview magazine .
Komyshan's Facebook page states that she is graduating high school in 2014, and she is someone who loves "ballet, starry nights, and smiling, a lot," according to her Twitter account.
Elgort too is fond of ballet, but admitted in an interview that he is no good. "I started in like ballet, a little bit. I wasn't very good, to be honest. But then I got more into tap dance," he told Jimmy Fallon.
Although Elgort has remained mum about his girlfriends in recent interviews, he told the New York Post at one point that his ideal partner would be someone who he knew before he attained fame.
"It's important to me to be with someone who I really trust, and if it's someone I knew before all of this, that's nice," he said. "It goes back to what Kate Winslet [his "Divergent" co-star] told me: 'There's a part of your life that needs to be your own.' I don't know why who I'm in love with needs to be public knowledge."
Elgort and Woodley sparked romance rumors when each of them gushed about the other in different interviews. More of a brother-sister relationship Woodley described the relationship as to The Daily Beast .
"We're completely different in almost every way, but are very intrigued by each other's differences, so when Fault came around, there was a fault in Hazel and Augustus's stars, but there wasn't a fault in our stars because we had that deep respect for one another. In real life, I look at him with such admiration and such love, and when you apply that to the rules and regulations of what it is to be in love with somebody, the natural chemistry is able to exist," she said.