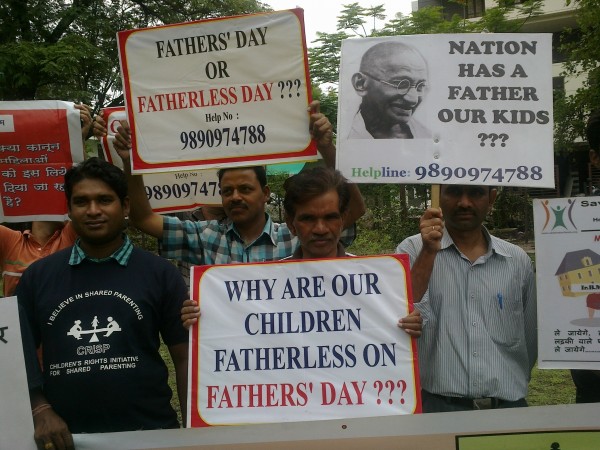 Rasool [name changed] divorced his wife about a decade-and-a-half ago, and the court had granted the wife custody of their child, then merely eight. Rasool was initially given the right to visit his son for two hours once every month, and then it was increased to once every 15 days.
"However, my ex-wife poisoned his mind against me in such a manner that by the time he was in his teens, he wanted nothing to do with me. He is in his 20s now, and being an adult, can easily come and meet me. No court can stop him. But he doesn't," Rasool told International Business Times, India, with the pain in his voice resonating over the phone on the eve of Father's Day, which falls this year on Sunday, June 19.
What Rasool described is often described as "parental alienation," something he is fighting through a non-government organisation (NGO) called Child Rights and Shared Parenting (CRISP), which, along with parent organisation Save Indian Family Foundation (SIFF), marked Father's Day on Saturday, June 18, with fathers such as Rasool who were bound by legal proceedings and could not be with their children on this occasion.
"Visitation rights allow you to visit your child on one or two fixed days in a month. What if that does not fall on Father's Day? That is the most likely scenario. That is why CRISP has been demanding shared parenting, wherein, if a couple is divorced, the husband and wife get equal custody of the child," Rasool said.
CRISP founder Kumar Jahgirdar told IBTimes India that Saturday's celebration in Bengaluru was also aimed at urging the central government to include the provision of shared parenting -- something that has also been suggested by the Law Commission -- in the relevant laws. An amendment in this regard has been pending in Parliament for one-and-a-half years, he said.
"We also want a separate ministry for Child Rights, because the current Ministry for Women and Child Development is focusing more on women. This new ministry should have equal representation from men and women, and that is how child rights can get the true attention it deserves," Jahgirdar told IBTimes India.