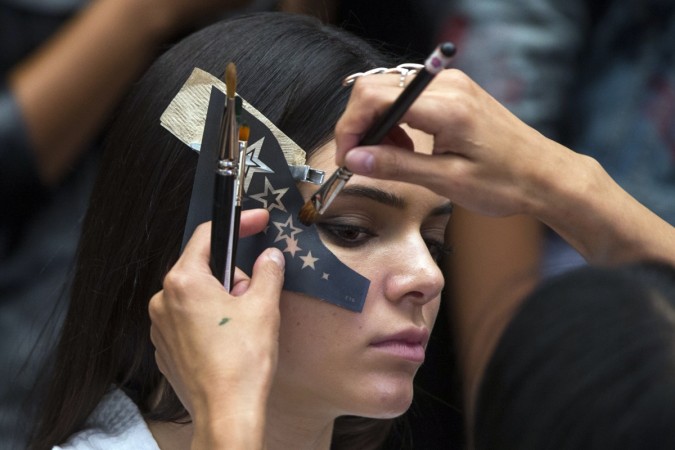 Kendall Jenner was recently blasted for being too fat. The cover page of a magazine called Famous read: "Model Bosses blast Kendall Jenner, call her too fat for runaway. Devastated Kendall asked to loose 8 KG."
The magazine used the photo from Jenner's Tommy Hilfiger show and it is being said that they photoshopped it to add some cellulite, according to a report by Hollywood Life.
It was earlier reported that Jenner was bullied by some models during New York Fashion week and had to deal with a lot of hatred backstage.
"The other models worked so hard to get a spot on the runway and didn't think it was fair that she was there," a source at fashion week told In Touch, according to Daily Mail. "They started acting b*tchy. Some even put out their cigarettes in Kendall's drink!"
However, it seems Jenner is putting her best foot forward in spite of all the criticism. She reportedly gave her best show at the runways when she walked for Diane Von Furstenberg, Tommy Hilfiger, and Marc Jacobs. She has also decided to drop her famous last name for the sake of her modelling career.
She apparently, feels that hailing from such a famous family is working against her, as people think that she has got everything without much effort. Jenner said in one her interviews that she had to work harder to prove her worth and to be taken seriously as a high fashion model.
"I was like, 'You know what? I want to be high fashion. I want to be taken seriously ... People think that this [success] just came to me. But it didn't. What I have has almost worked against me. I had to work even harder to get where I wanted because people didn't take me seriously as a model. Because of the TV show," she told Love magazine as per FashionGoneRouge.
It is reported that Jenner had even requested her famous sister Kim Kardashian not to attend her fashion shows in a move to get out of her family limelight. Kardashian apparently gets invites for Jenner's modelling shows, but the latter does not want her to attend.
Report also has it that Jenner might quit "KUWTK" to carve her niche in the modelling world.