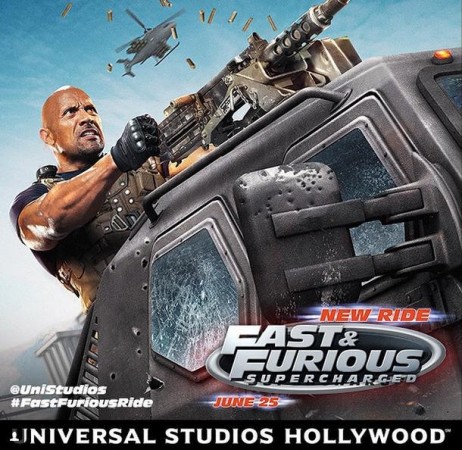 "Fast & Furious" fans will never feel out of action. In fact, they can now experience the speed themselves with the launch of Hollywood theme park's new ride, "Fast & Furious – Supercharged".
Universal Studios has stepped the excitement, unveiling posters that feature multi-cast members as well as solo shots of Vin Diesel, Tyrese Gibson, Michelle Rodriguez and most recently, Dwayne Johnson as Luke Hobbs getting 'Supercharged' ahead of the park's opening on 25 June.
Just a month before the fast thrill ride opens at Universal Studios Hollywood, they've also released a behind-the-scenes video, featuring commentary from the cast, including Vin Diesel, Dwayne Johnson, Michelle Rodriguez, Tyrese Gibson and Luke Evans and the producers.
In the video Johnson is heard saying: "When you have something as unique and special as the Fast & Furious franchise, you want to create an experience for the fans that they can only feel and experience at Universal Parks."
"To be immortalised in a ride, is a very cooI thing. I get a chance to become Luke Hobbs and kick ass…all in 3D."
According to Daily Mail, "Fast & Furious — Supercharged" is a technologically advanced, epic ride that reunites stars from the "Fast & Furious" series in a mega attraction designed to let guests experience the world of street racing at 120 miles per hour.
This ride has been conceived as a new installment to the "Fast & Furious" franchise and will debut as the grand finale to Universal Studios Hollywood's behind-the-scenes Studio Tour tram ride.
The report also said that the theme park has built a 65,000 sq ft structure for the tram to enter, complete with a 360 degree, 400 ft long screen. Inside, 34 projectors will beam 3D images, giving the illusion of travelling at breakneck speeds.
So, "Fast and Furious" fans, get ready for the ride and experience the thrill.