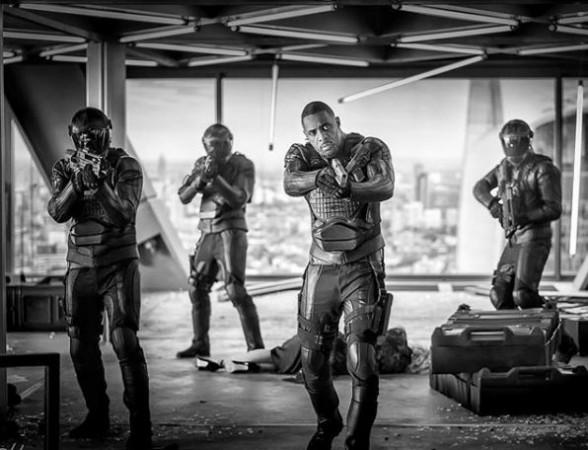 Dwayne Johnson promises "hell and mayhem" and "showdown of all showdown" in the much awaited Fast & Furious spinoff. And according to him, fans will be in for huge moments in the upcoming film because of its "greatest villain" played by Idris Elba.
On Thursday, 12 October, the actor, who plays Luke Hobbs in the franchise, took it to Instagram to share the first look of the British actor in the film Hobbs and Shaw. In the black and white photo, Elba stuns in a body armour as he appears battle ready along with his army.
Along with the picture, Johnson wrote a lengthy caption introducing Brixton, Elba's villainous character. "I learned a long time ago (when I was a very sinful eyebrow-raising villainous man in the cIt'srazy world of pro wrestling;) that heroes are only as great as their greatest villains," he wrote.
The plot of the film has been kept a tight secret but according to a synopsis written on IMDB, the spinoff tale of The Fate of the Furious will focus on Johnson's US Diplomatic Security Agent Luke Hobbs forming an unlikely alliance with Jason Statham's Deckard Shaw.
"A pleasure to introduce the man himself @idriselba we brought in to our Fast & Furious franchise to wreak havoc, hell, and mayhem on our heroes HOBBS & SHAW. The name: BRIXTON. The record: UNDEFEATED. The promise: SHOWDOWN OF ALL SHOWDOWNS," he added.
Written by Furious 7 writer Chris Morgan, the film is helmed by Deadpool 2 director David Leitch. The director has been tightlipped about the film's storyline but teased that it will focus on the chemistry between Jonshon and Statham's characters.
The filming of the spinoff has begun in the first week of October. The 46-year-old former wrestler has previously shared an update teasing the friction between Hobbs and Shaw. "We either gonna get along or we gonna get it on," Johnson wrote.
"There are these buddy movies from the '80s and '90s like Lethal Weapon and 48 Hours that really speak to me as a filmmaker. They're ones that made me want to be a filmmaker in the first place. So to see the chemistry [Johnson and Statham] had in the last Fast, and to see the potential that they could be...it was hard not to say yes, and say, 'Let's go do this,'" Leitch told IGN in May this year.
Considering the huge fanbase of Johnson's character, the producers of the F&F spinoff are hoping to launch a franchise and hence Leitch said, they are focussing more on building characters in the spinoff. The film is scheduled to releases on 2 August 2019.