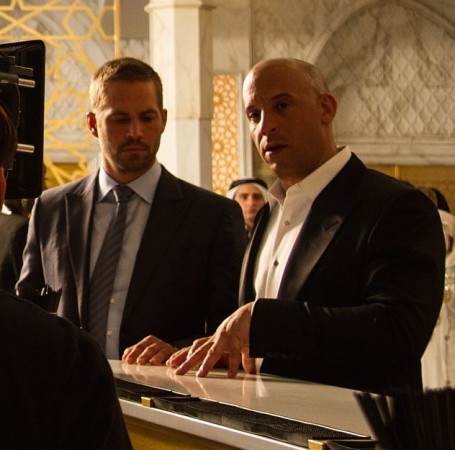 "Fast and Furious" star Vin Diesel paid a touching tribute to his late friend and co-star Paul Walker during the filming of "Fast 8" — the upcoming instalment in the long-running franchise.
"Many of the crew members who have worked on several of the past Fast films are here again to help us make something special, [sic]" Diesel wrote Saturday on Instagram alongside a photo of him and Walker. "One of them at the end of the week came up to me and said wow what we are capturing on film is excellent... And then looked at me and said Paul would be proud, [sic]" Diesel closed the post with, "#wemakethemwithourhearts."
Walker was an integral part of the popular action franchise and appeared in all the films except "Fast and Furious: Tokyo Drift." The actor died in a car crash in between filming "Furious 7" in 2013, but has remained a key part of the franchise's legacy.
New addition to the cast, Scott Eastwood, spoke via an earlier social media post about his association and relationship with Walker (via Entertainment Weekly). "Paul was a close friend of mine. We surfed together, traveled together, and he was a huge role model and influencing figure in my life when I was younger," said Eastwood.
"He still is. He was an older brother to me. For me to be able to add to the F&F story, Paul's story, and the FAST family is like a dream come true. [Director F.] Gary Gray and [producer] Neal Moritz – I can't wait to get started and dive in. Vin – thank you for the support and the insight. Paul – I am going to make you proud [sic]"
"Fast 8" is slated to release in theatres on April 14, 2017.