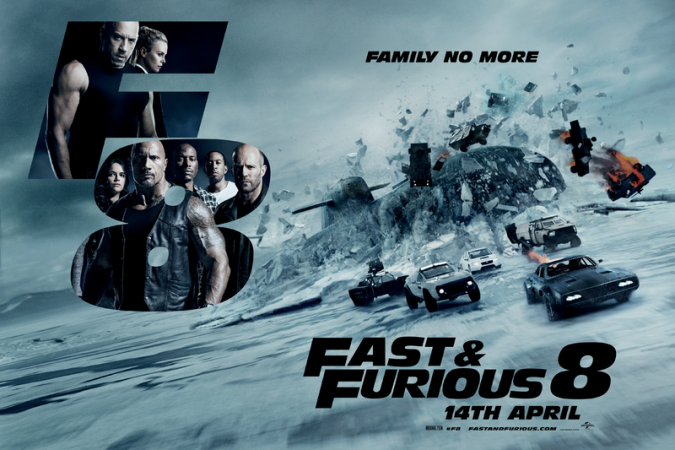 The Easter weekend watched only one big budget movie debuting at the box office – The Fate of the Furious aka Fast and Furious 8. With no competition and high expectations from the box office, the Vin Diesel and Dwayne Johnson-starrer made big money as it set fire with its box office collection in different markets.
Also Read: Fast and Furious 8 review
Said to have been made with a budget of $250 million, the F Gary Gray directorial was expected to make $400 million in the global market. But the movie broke all records and expectations by making a global debut with an estimate of $532.5 million over its first weekend.
The number includes $100.2 million domestically and $432.2 million overseas, shares The Hollywood Reporter. The movie became the biggest opener breaking international records previously held by Jurassic World.
Fast 8 owes its success to the huge success in the China market. Earning $190 million in China, THR shared that the eighth instalment of the Fast and Furious franchise surpassed worldwide record launch of Star Wars: The Force Awakens.
The biggest advantage that the movie had in the China market, THR reports, is that Furious 8 opened on the same day and date as the international release date resulting in a whopping $190 million, the biggest three-day collection in history.
The website also notes that F8 made more money than its previous instalments in 32 markets. While Fast 8 could not beat Furious 7's $147 million opening weekend collection, it did stand second in the records.
"This franchise is showing no sign of wear and tear. Fate of the Furious is satisfying audiences on many different levels," said Universal international distribution chief Duncan Clark.
The Fast and Furious franchise has overall grossed more than $3.9 billion globally, with Furious 7 being the biggest earner and the only Fast and Furious movie to have surpassed $1 billion finishing its worldwide run at $1.516 billion.
According to Box Office Mojo, this is the international breakdown of Fast and Furious 8 opening weekend's international box office collection:
| | |
| --- | --- |
| China | $190 million |
| Mexico | $17.8 million |
| U.K. and Ireland | $17 million |
| Russia | $14.1 million |
| Germany | $13.6 million |
| Brazil | $12.8 million |
| France | $10.5 million |
| Korea | $10.5 million |
| India | $10.4 million |
| Taiwan | $9.7 million |
| Australia | $9.6 million |
| Middle East Combined | $9.3 million |
| Indonesia | $9 million |
| Argentina | $8.3 million |
| Malaysia | $6.8 million |
| Italy | $6.7 million |
| Spain | $6.1 million |
| Colombia | $5 million |
| Thailand | $4.7 million |
| Panama | $4.6 million |
The franchise's eighth movie is yet to release in five markets, which include Philippines, Serbia, Poland, Romania and Japan. The film is also growing popularity courtesy its sound track. Here is a compilation of the Fast and Furious 8 songs: