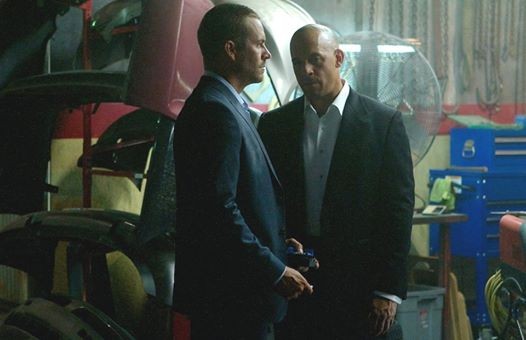 "Fast and Furious 7" is slated for an April 2015 release, and actor Vin Diesel has been sharing a number of photographs from the movie, and one of it features the late Paul Walker.
One of the photos shows Diesel's character Dom standing with Walker's Brian, and they seem to be deep in conversation. Yet another picture shows Dom wrapping his wrist, and from the expression on his face, it can be correctly deduced that he is getting ready for a fight.
"Universal came to visit, to show the trailer for FF7... Speechless... yeah, it was that INCREDIBLE!" Diesel captioned the picture. "I must also say, that it was emotional and bittersweet... we all went above and beyond to make Pablo proud, but man, I wish he could see what we have created and just how far we have come."
Diesel is not the only one who has paid tributes to the actor since he passed away in a tragic car accident last November. In what would have been Walker's 41st birthday on 12 September, his daughter Meadow posted online an adorable picture of the father-daughter duo.
"Happy Birthday, I love you," Meadow captioned the photo of herself as a baby in her young father's arms.
The same day, his "Fast and Furious" co-star and on-screen love interest, Jordana Brewster, also paid tribute to the actor with a photo of a sunrise over the horizon. "#HappyBirthdayPW #ROWW Always in our hearts," she captioned the photo.
Meanwhile, Diesel wished the late actor by posting a video of Walker celebrating his 40th birthday on the sets of "Fast and Furious." The video shows Diesel and the rest of the "Fast and Furious" crew singing "Happy Birthday" while Walker blows out the candles.
The seventh installment in the "Fast and Furious" franchise will be a vengeance story where Dom, Brian and the rest of the gang will go after Ian Shaw, played by series newcomer Jason Statham.
It wouldn't be wrong to say that hardcore fans of the movie are eagerly waiting to see how the film has used digital technology to recreate Walker so that the film could be completed.