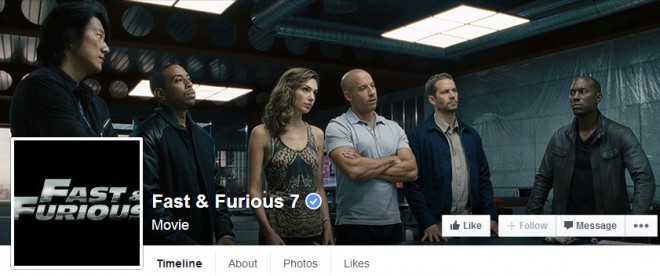 Anticipation on "Fast & Furious 7" has shot up among the fans after the release of its trailer which is packed with some breath-taking stunts. The first look of the film was lauded by the fans, getting millions of likes and more than 100 million views within 48 hours of its release.
The film's promo introduced key cast of the film including "Paul Walker, Vin Diesel, Michelle Rodriguez, Ludacris, Jason Statham and others to the fans.
Diesel, who plays Dominic Toretto in the film, recently caused curiosity among the fans by sharing a nostalgic photo of himself with late actor Paul Walker. In the photo, the two are seen goofing around. The photo has received more than 2 million likes, giving a clear message that fans miss the late actor.
Walker died in a car accident on 30 November while returning from a charity event. The actor is survived by his 16-year-old daughter Meadow Walker. He had completed most of his scenes before his untimely demise. His brothers Cody and Caleb Walker completed his remaining scenes with the help of CGI technique.
"Fast & Furious 7" is Walker's last film and his character Brian O' Connor would be bid farewell.
Diesel has also shared a photo of himself with Statham. The two actors are seen hanging around at the "F&F 7" trailer launch event. Statham plays the main antagonist, Ian Shaw, in the film and he is expected to go on a revenge spree against Toretto's gang as his brother Own Shaw was killed in "Fast & Furious 6."
In another twist, Iggy Azeala debuts as an actor in the film and she will play Toretto's friend.
"I thought that I was just going to have to wave the flag and then I came [to set] and I got a car and I got some lines and then [my character is] friends with Vin," Iggy revealed to Access Hollywood according to a report by Mirror.
"Fast & Furious 7" official name is "Furious 7." The film is scheduled to hit the theater in April next year.