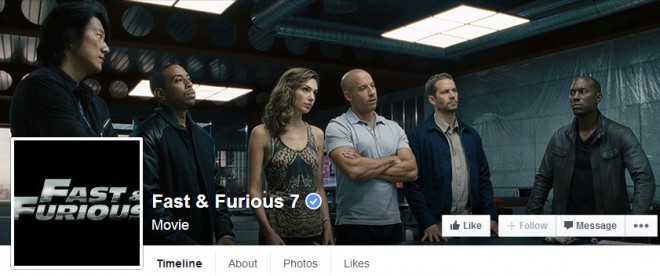 The first trailer of "Fast & Furious 7" is all set to be launched on 1 November and fans will be able to live stream it at 3 pm ET/12pm PT on E! and E! online.
Maria Menounos and Terrence Jenkins will be hosting the live event titled "Road to Furious 7." The event will be one hour long and besides "Fast & Furious 7" trailer premiere, there will be a live Q&A session with the cast and crew.
The one on one conversation session will include Vin Diesel, Michelle Rodriguez, Jordana Brewster, Tyrese Gibson, Ludacris and Jason Statham. Fans can leave their questions on the "Fast & Furious 7" official social media page. The event can also be live streamed on film's Facebook page here.
"Fast & Furious 7" is Paul Walker's last film, before the actor died in a tragic car accident on 30 November 2013. After Walker's death his brother Cody and Caleb Walker completed the remaining scenes.
Brewster who plays Walker's on screen wife in "F&F 7" recently talked about him in her interview with Cosmopolitan magazine. "It's the most difficult, intense thing I've ever been through," Jordana told the magazine about Walker's death.
Brewster has played Walker's love interest since the very first instalment of "Fast & Furious," and two actors reportedly shared a very strong bond.
"Just yesterday, I had a moment where I thought, 'Oh my God, I'm never going to feel the way I felt when I hugged him.' We shared so many years of friendship, and he embraced life so much," said Brewster, adding: "The thing about Paul is he said hello to everybody. He didn't see people as different."
"F&F7'" has officially been titled "Furious 7", the first poster of which has already been released. It gives a sneak peek at Dominic Toretto's (Diesel) gang members. The film has been directed by James Wan and is speculated to be a revenge thriller. The film's main antagonist is Statham who would be playing the role of Ian Shaw and would go after Toretto's gang. "Fast & Furious 7" is set to hit theatres on 3 April 2015.