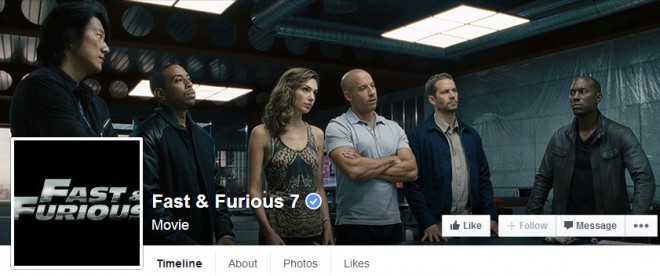 The release date of the seventh installment of the "Fast and Furious" series has been pre-poned by a week to April 3 from April 10, so that Universal Pictures would be able to book more international dates for the movie.
The news was announced on the official Twitter account of "Fast and Furious 7."
Production of the movie, which stars the late Paul Walker along with Vin Diesel, Dwayne Johnson, Michelle Rodriguez, Jordana Brewster and Tyrese Gibson, has had to deal with a number of hurdles due to Walker's death in a car accident on Nov. 30.
Before Walker's death, Diesel had said in an interview that the seventh installment would be the beginning of a new trilogy in the series. But since Walker's passing away, Diesel has repeatedly voiced out the difficulty in continuing the story without Walker.
However, Universal Pictures appears to be going ahead with their plan for a trilogy as the studio has cast Walker's brother, Cody, in the franchise.
Soon after the film, helmed by James Wan, resumed production this past April Walker's brothers, Cody and Caleb, offered their help to complete shooting the movie. Both the brothers have a striking similarity to Walker, and it is believed that Caleb will play Brian O'Connor, while Cody will essay the role of his brother, according to Enstarz.
In June, a production source told MailOnline that Cody will be given a role in future movies, saying Brian O'Conner will be seen as retiring at the end of the movie, while his younger brother will join the crew.
Praising the decision to cast Cody in the franchise, Paul Dergarabedian, senior media analyst for the box office tracking firm Rentrak, told Forbes that the younger Walker would be the best to take forward the Walker tradition.
"If Walker's brother does a great job and is well received by audiences in this newly conceived role, then who better to carry on the Walker tradition than his brother?"
"When its a family member who fills in, it seems to soften any criticism that could develop. Look at Jason Bonham (son of the late Led Zeppelin drummer John Bonham), when he has filled in for his respected and beloved father, everyone was cool with it because they kept it in the family. Universal is keeping it in the family and its tough to argue with the strategy," he added.
The villain in the seventh installment of the movie is Jason Statham, who will essay the role of Ian Shaw, the brother of Owen Shaw, the character played by Luke Evans. Ian is out to seek revenge for the death of his brother, which was featured in "Fast and Furious 6."