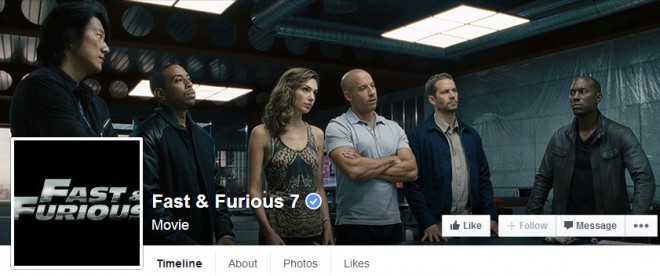 Actor Vin Diesel, who plays Dominic Toretto in "Fast & Furious 7", recently shared a scene from the film on his Facebook where late actor Paul Walker, Tyrese Gibson and Ludacris are seen attending a funeral ceremony. The actors are seen in black suits and look gloomy in the scene.
The "Fast 7" cast is reportedly mourning Han's (Sung Kang) death in the scene. Han was killed in "Fast & Furious 6" and it is speculated that the gang would go on a revenge spree in the sequel. Diesel and Walker's character would go after the man who killed Han, according to reports by Cinema Blend.
Walker had shot most of his part before he met with a tragic car accident on 30 November last year. The actor was coming from a charity event along with his business partner Rogar Rodas before their car crashed into an electric pole. Both Walker and Rodas succumbed to accident injuries.
Walker brothers, Cody and Caleb Walker were roped in to finish the remaining scenes after their brother Paul died before the completion of the film. It is reported that Cody would be doing a full-fledged role in the upcoming sequels of "Fast & Furious" franchise.
Meanwhile, it is also reported that Jason Statham would be playing villain in the film. Statham, who is new to the film, had suggested in his recent interview that he is thrilled about his role.
"Obviously, we're trying to work out now what angle to come from. Some people say, 'Wait, are you gonna be the villain? The guy who threatens the world and wants to blow everything up?' No. 'What kind of an antagonist are you gonna be?' I'm not gonna say what I'm gonna be. The spoilers are the worst...I'm gonna try and keep my mouth shut and not say what I'm gonna be doing," the actor told Coming Soon in an interview.
Directot of the film, James Wan is also new to the "Fast & Furious" franchise.
"Okay, this is how I've been describing it: It is like being invited to a Thanksgiving dinner and the whole family's at the dinner [table], already carving the turkey. And I walk in through the door and everyone stops and looks at me. And I'm standing there awkwardly going, 'Hi! I'm here! Oh, that's my seat? Okay, I'll come and join the table," Wan told Screen Rant when he joined the film as the director
"Fast & Furious 7" is slated to release in April next year.