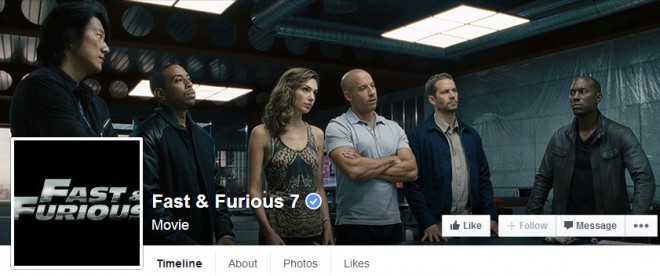 Universal Studios has released the first trailer of "Fast & Furious 7". Directed by James Wan, the first look of the film take fans on a high packed action journey where cars are shown descending from an airplane. Dominic Toretto's (Vin Diesel) daring crew, including Brian O' Connor (Paul Walker), Letty Ortiz (Michelle Rodriguez), Roman Pearce (Tyrese) and Tej Parker (Ludacris) are seen revving up their car engine as they take a flight from a transport plane and land swiftly on the road.
"Just when you didn't think it could get any better, huh," Walker says in the trailer.
The Furious 7 gang takes down a group of villains as Walker and Rodriguez's character indulge in some breath-taking stunts. The trailer also introduces to Dwayne Johnson who has reprised his role as Luke Hobbs, Jordana Brewster, who plays Walker's on screen wife Mia Toretto and Jason Statham, who is the main antagonist in the film. He plays Ian Shaw and would be seen taking revenge of his brother Owen Shaw's death, who was killed by Toretto's gang in "Fast & Furious 6."
The trailer also shows Kurt Russell, who would be seen playing a father figure to Walker's character. "Fast & Furious 7", officially titled as Furious 7 is Walker's last film. The 40-year-old actor passed away last year in a car crash. He was returning from a charity event on Nov 30, when his car met with an accident.
Since then scriptwriter Chris Morgan has tweaked the script of the film. The production house has decided to give a suitable send off to Walker's character and it is speculated he would retire in the film. Walker's brothers were used as stand-ins and with the help of CGI his remaining scenes were completed.
"Furious 7" is slated to release on April 3, 2015. Industry pundits have huge business expectations from the film as the last film in the franchise raked in $1.4 million at the box office. More so, there is a lot of emotional value attached to the film as this would be last time fans would get to see Walker on the screen.