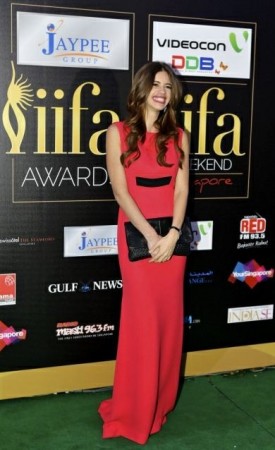 A fashion show turned into an unpleasant scene after Bollywood actress Kalki Koechlin, who was the showstopper for the show, was allegedly described as 'mentally unstable' by the designers.
The fuming actress took to Twitter to express her anger, saying, "After a 4hour wait in lehenga, jewellery make up they have the gall to call me mentally disturbed! Riddhi siddhi, dp designers, shame on you."
"Not seen a more disorganised show than #glamourstyleweek2013 where the organisers called me off the ramp when I'm the showstopper!"
The actress was to walk the ramp in Glamour Style Week 2013 but instead broke into a dance jig while on ramp giving the walk a miss which apparently did not go down well with the designers.
However, the accusation was blatantly denied by the Goa-based designer twins claiming that no such comment was passed from their part.
"We are shocked to see this accusation from her. We would never stoop down to talk about anyone this way. We were glad that Kalki was sporting our garment on ramp as we think she is one of the best dressed style icon in Bollywood," the duo was quoted by PTI as saying,
"It was primarily a jewellery show and not a clothing one. She was supposed to walk with jewellery designers."
Further the duo added that the accusation was a taint to their reputation and demanded an apology from the actress.
"We do not need such kind of publicity by putting someone else down. The least Kalki could have done was to ask her agent to call us before putting matter on twitter."
"We need an official apology on Twitter and other media about the same as she has been responsible for defaming us for no reason," the said.
Kalki, who was last seen in "Yeh Jawaani Hai Deewani", has been in news over the straining relation with her husband director Anurag Kashyap. It is reported that she is facing problem in her marriage with her husband being linked to actress Huma Qureshi.
In this context, the 29-year-old went on to tweet, "By the way I am mentally disturbed but its certainly not because of my hubby ;)"