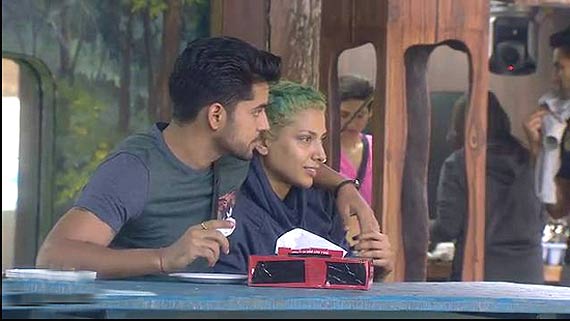 "Bigg Boss 8" is over, but the hatred contestants harboured for winner Gautam Gulati has stayed.
That Diandra Soares and Gautam had a whirlwind romance is no big secret. Their frequent romantic escapades to the washroom made the headlines and soon they were the centre of attraction.
Unfortunately, the two ended on a bitter note after GG retreated from the relationship on national television. The TV actor was conscious of his image and advised her to stay away from him as her 'carefree' nature is hurting his family.
However, the supermodel was gracious enough to leave it at that. But she re-entered the mad house to say how much the moments they shared meant to her. She even went on a massive 'Vote for Gautam' spree during the suave housemate's last few weeks in the house.
But, looks like all the love and fondness has disappeared into thin air. According to a Bollywood Life report, Diandra along with Pritam Singh and Praneet Bhatt snubbed Gautam on Farah Khan's cookery show "Farah ki Daawat".
It is being said that when the celebrity guests were asked questions on their co-inmates, they conveniently left GG out of their replies.
Does this mean that Gautam was made to shoot with Alia Bhatt because the "BB8" housemates refused to share the frame with him? Since, no official statement has been released, this remains as only a mere speculation.
In other news, Upen Patel has reportedly vowed to maintain safe distance from co-contestants. A BL reported stated how he rejected the offer to star in Farah's new show so that he could not meet up with celebs he has lived with, in the house.