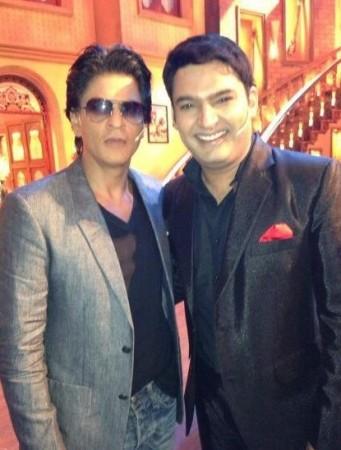 Kapil Sharma, who will soon grace the finale of Farah Khan's "Farah Ki Daawat" in Colors channel, was apparently not the first choice for the special day.
According to a report in Bollywood Life, Shah Rukh Khan was said to have been approached for the final episode, but was replaced by the host of "Comedy Nights with Kapil" at eleventh hour.
Farah Khan had earlier mentioned in a press conference that her "Happy New Year" actor will shoot an episode, where he will prepare chicken pasta and the star too confirmed the news, however, things didn't turn out as planned.
The reason for Shah Rukh's absence in Farah's show is said to be the former's tiff with Colors channel that airs Kapil's show as well.
SRK who invited the comedy king in his new show "India Poochega-Sabse Shaana Kaun?" in &TV channel, was apparently disappointed when the latter turned down the offer.
However, Sharma later clarified that he can never turn down the "Fan" actor's invitation as the superstar has appeared on his comedy show multiple times. Rather, it was Colors who prohibited him from shooting on a rival channel.
"I was told (by Colors) that I can't shoot for a rival channel, especially as it's new. And now, it's sad that I'm being blamed. I am very hurt by the way things are projected. If the channel objected to me shooting for a rival channel, then they should have been upfront about it and not put the blame on me," Sharma told Hindustan Times.
But, looks like SRK is still miffed with the popular channel as it was evident when he chose to give good friend Farah's show on Colors channel a miss.
Meanwhile, Sharma, who shot "Farah Ki Daawat" final episode on 5 March, was accompanied by Anil Kapoor and Jazqueline Fernandez while the celebs also cooked some mouth-watering dishes for Farah.